Search on for top Scots inventor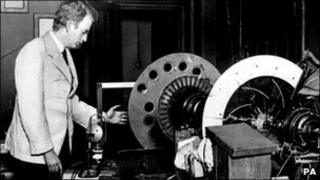 A search for Scotland's top inventors has been launched.
Winners of John Logie Baird Awards will be given a £10,000 support package for each category, which includes help with getting their idea to market.
Inventors met at the Grand Central Hotel in Glasgow for the launch, nearly a century after Baird transmitted moving pictures at the historic hotel.
The 2009 winners include an eco-friendly alternative to cremation and a device that helps farmed fish grow.
The awards, which have six categories including young innovator, knowledge transfer champion and entrepreneurial spirit, were set up to celebrate innovation talent in Scotland.
'Quite incredible'
Isabell Majewsky, chief executive of award organisers The Go Group, said Baird put Scotland on the map for global innovation, and that tradition had continued.
"Although we're a small nation, we have repeatedly proven that we can make a significant impact to progress in the UK and the rest of the world," she said.
"The John Logie Baird Awards Programme recognises this.
"To be hosting this year's launch event at a venue which has such a strong historical link to the programme's namesake is quite incredible and we look forward to a strong response from inventors and innovators."
Initially, entrants will compete at a regional level, with judges looking for originality, entrepreneurial ability, market potential and the ability to develop the idea.
Regional workshops, providing support and information on patents, prototypes and product development, will be provided for the best commercially viable ideas.
Winners will then be selected to enter the national competition.