Labour signals end to council tax freeze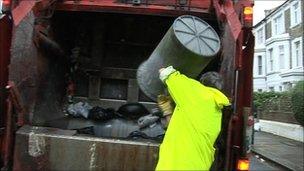 Scottish Labour leader Iain Gray has said he would allow local authorities to end the council tax freeze.
The SNP, which has overseen the cap on council tax levels since it came to power in 2007, described the move as a "disastrous blunder".
The Scottish government has provided additional funding to councils, from a £70m central funding pot, in return for freezing the tax.
Mr Gray suggested there should be a limit on any future rises.
The Labour leader said: "I don't think local authorities should be free to put their council tax up as much as they feel like it.
"We are saying they ought to be given their freedom to set tax locally.
"The SNP are either going to have to demonstrate how the freeze is sustainable or should be talking to councils about the parameters in which they remove that gun from their head - i.e. you can only put it up if you demonstrate what it's being used for or it can only go up by a very small limit.
"I think a lot of local authorities may well not put it up."
SNP MSP for Livingston and Deputy Whip Angela Constance said the issue would make him known as "the man wants to hammer Scots families and pensioners by pushing up their council tax".
She added: "The SNP government has helped hard-pressed households by freezing council tax year on year - saving average households nearly £300 when people's finances are under real pressure."
A Labour Party spokesman said the SNP needed to be more honest with the public about necessary cuts.
Related Internet Links
The BBC is not responsible for the content of external sites.