New flood forecast scheme to be launched in Scotland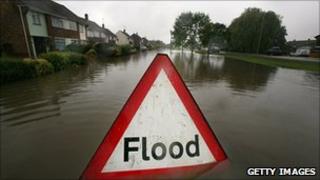 A new forecasting service which aims to deliver better flood warnings is to be launched in Scotland.
The £750,000 project is due to begin operation next March.
It will link experts from the Met Office's operations centre in Aberdeen with the Scottish Environment Protection Agency's flood forecasting team in Perth.
Scotland's environment minister said the system would "help minimise the impact of floods on our communities".
Roseanna Cunningham said: "The Scottish Flood Forecasting Service will be a vital tool in our battle against flooding, as it will help provide the relevant authorities with better, earlier information."
It will give daily statements for councils and emergency services detailing developing risks, creating early warning of potential flooding and giving organisations more time to prepare for flooding.
The Scottish government is contributing £500,000 towards the launch of the scheme, with the remaining £250,000 coming from Sepa.
James Curran, director of science and strategy at the Sepa, said the service would enable the agency to deliver "better and timely information" to the emergency services and local authorities.
"It will also help us, through Floodline, to provide those living, working or travelling in flood risk areas with as much advance warning as possible of predicted flooding, so they can take action," he added.
"It's a partnership with a real purpose, to help people."