Dolphins generate £4m a year to Scots economy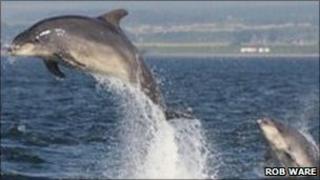 Dolphin spotters contribute an estimated £4m to Scotland's economy, new figures have suggested.
Aberdeen University researchers examined what impact bottlenose dolphins off the country's east coast had on the tourism sector.
They found dolphin-watching was a major reason behind 52,200 overnight trips to the area.
A total of 17,100 people said that seeing the creatures was the main reason for their trip.
The study, by researchers based at the Aberdeen centre for environmental sustainability, also found that more than 200 jobs in the tourism industry were generated by overnight trips to see the dolphins.
Rural Affairs and Environment Secretary Richard Lochhead described the marine mammals as "much-loved inhabitants of Scotland's eastern waters".
He said it was "little wonder that many thousands of people plan especially to see them".
'Delightful symbol'
Mr Lochhead said the Marine Scotland Act had been designed to help protect wild species, such as dolphins, while also aiming to ensure the country could benefit from "the riches contained within our waters".
He added: "While dolphins directly add to our tourist income, they are also a delightful symbol of this unique and special environment which we protect, develop and enjoy."
During the summer months most dolphin tourists come from outside Scotland but Scots travel more frequently for shorter trips at other times of the year.
The research was based on a survey of 529 visitors during 2009.
It comes after a Scottish government report put the net economic impact of all wildlife tourism to Scotland at about £65m, supporting about 2,760 jobs.