Scots ambulance emergency line hit by phone fault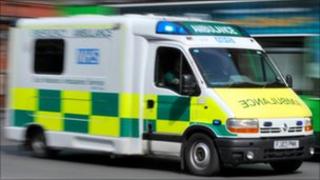 A technical fault affected 999 emergency calls to two of the Scottish Ambulance Service's three call centres, it has emerged.
The fault occurred between midnight and 0330 BST on Tuesday.
It disrupted calls to Inverness and Edinburgh, causing many to be diverted to operators in Glasgow.
The ambulance service said it was investigating the reason for the fault and said all emergency calls were answered using an overflow system.
A spokesman for the service said: "The Scottish Ambulance Service experienced some technical problems to the 999 service in its Inverness and Edinburgh Emergency Medical Dispatch Centres (EMDC) in the early ours of this morning.
"The problem occurred between approximately 12.30 and 03.30 and the EMDC in Cardonald was unaffected.
"All 999 calls were answered using the usual overflow system to Cardonald, along with existing contingency lines in Inverness and Edinburgh.
"A review is ongoing with BT to identify the cause and ensure that clinical outcomes were not affected."
The incident follows a similar breakdown in July, which meant no emergency calls were received at any of Scotland's three call centres for several hours.
Callers were diverted to operators in Belfast and the north of England instead.
'Serious questions'
The incident in July prompted Health Secretary Nicola Sturgeon to make a statement to parliament in which she gave assurances that changes had been made to avoid a repeat incident.
Jackie Baillie, Scottish Labour's health spokeswoman, said: "It is deeply concerning that emergency 999 calls have been disrupted for a second time in just a few months.
"This raises serious questions about the resilience of the system and we need to know why lessons were not learned from the first incident."
Liberal Democrat Health spokesman Ross Finnie said: "We now need to know, immediately, if ambulance response times were affected and if any patients were delayed getting to hospital.
"Given the previous incident, there now has to be a fundamental review of the technical capabilities of the 999 system."
A government spokesman said the latest incident was being fully investigated, and pointed out the back-up systems had worked, although it is still not clear if any patients were affected.