Annabel Goldie attacks SNP defence policy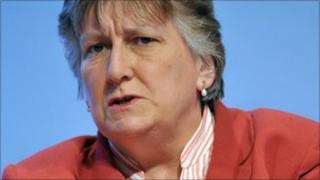 The Scottish Conservative leader has said Scotland would not have "a single defence job" if it was independent.
Annabel Goldie used her speech at the party's conference in Birmingham to attack the SNP's defence policy.
Her comments came less than a week after she joined forces with Alex Salmond to lobby against defence cuts.
They took part in a cross-party meeting with UK Defence Secretary Liam Fox to make the case for two planned Royal Navy aircraft carriers.
The meeting, which included Scottish Labour leader Iain Gray and Tavish Scot of the Liberal Democrats, also called for RAF bases north of the border to be retained.
Ms Goldie told delegates that the joint submission of the four Scottish parties made to the strategic defence and security review presented "a powerful argument for the Scottish defence industry".
But she claimed that it also "lays bare a very inconvenient truth for Alex Salmond".
In her speech, she said: "One fact underpins that document. It is this - Scotland would not have one single defence job if we were independent. Not one.
"We only have these defence jobs because we are part of the United Kingdom."
Defence Secretary Liam Fox has blamed Labour's "toxic" legacy of economic mismanagement for what he says will be inevitable cuts to the defence budget.