Scotland's eight police forces 'are unsustainable'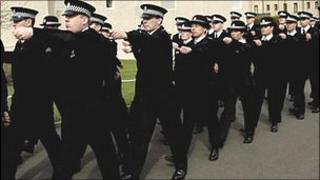 The number of police forces in Scotland should be reduced to make cost savings, the man charged with overseeing the service has said.
Inspector of Constabulary Bill Skelly said the current model of eight forces was unsustainable.
He said it was unlikely this situation could remain in light of the challenges faced by public sector cuts.
However, Mr Skelly refused to be drawn on whether a single national force should replace the eight forces.
Work has already begun to determine if there should be three regional forces or a single national police service in Scotland.
In his second report as Inspector of Constabulary, Mr Skelly said he recognised restructuring of the forces would cost more in the short term.
"Despite a backdrop increasingly dominated by future budget considerations, Scotland's eight forces have remained focused on delivering a high quality service to the communities they serve," he said.
"They have demonstrated that a sense of 'local policing' is not determined by the scale of the force, but by the focus on individual community needs and this should remain the foundation of any future considerations on policing."
The annual report covers the period from 1 April 2009 to 31 March 2010
In it, Mr Skelly also said the system for managing high-risk ex-offenders needed to be improved.
Mr Skelly said agencies working with sex offenders and violent criminals needed to take "every reasonable step" to protect the public.
National standards
However, he said there remained "considerable scope to improve" the risk management of such offenders.
Mr Skelly found that even when services such as local authorities, police and the Scottish Prison Service worked well, it was possible for determined offenders to commit serious offences.
While multi-agency public protection arrangements for managing ex-offenders have improved how they work together and make joint decisions, he found there was still room for improvement.
He wrote: "Nevertheless, there remains considerable scope to improve the practices underpinning this commitment, particularly around conducting risk assessments, risk management planning and information-sharing."
He called on the Scottish government and relevant agencies to establish new standards and formal protocols and provide guidance on the issue.
Mr Skelly also said that the Proceeds of Crime Act (Poca) - which gives powers to recover financial gains made from crime - was being used to good effect by the legal system.
However, he said the powers were currently focusing on organised crime and were not being applied to lower level, high volume criminals.
The report also found that levels of sickness absence among police officers had fallen to below the UK average.
Justice Secretary Kenny MacAskill welcomed the report, saying it proved police officers were making every effort to make communities safer.
He said: "The Scottish government is committed to a strong, well-resourced police service and making our communities safer places to live and work.
"The Scottish government has provided record levels of police funding this financial year, £1.4bn - a 20% rise since 2006-07.
"There are record numbers of police in Scotland - over 1,000 additional officers since this government came into office - and recorded crime is now at a 32-year record low."