Cameron: Lockerbie bomber release 'lowered UK standing'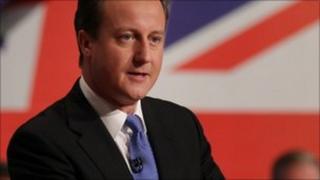 The prime minister has said the decision to release the only man convicted of the Lockerbie bombing "undermined" the UK's global standing.
David Cameron used his speech at the Tory party conference to attack the Scottish government's release of Abdelbaset Ali al-Megrahi last year.
He said the decision was "wrong" and that "nothing like that must ever happen again".
Megrahi was released in 2009 after being diagnosed with terminal cancer.
Mr Cameron told representatives in Birmingham: "The sight of that man, responsible for the Lockerbie bombing - the biggest mass murderer in British history - set free to get a hero's welcome in Tripoli, no.
"It was wrong. It undermined our standing in the world. Nothing like that must ever happen again."
The Scottish government released 58-year-old Megrahi on compassionate grounds in August 2009 after he was diagnosed with prostate cancer.
SNP ministers have always maintained the decision was for Scottish Justice Secretary Kenny MacAskill and that it was made in keeping with the ideals of the justice system.
He was jailed for a minimum of 20 years following a specially convened trial in the Netherlands in 2001.
He remains the only man convicted of the 1988 bombing of a Pan Am flight 103 over Lockerbie.