Rapist attacked woman twice in 12 weeks in south London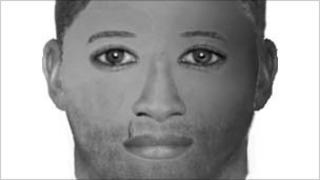 An e-fit image of a man who attacked and raped a woman in south London twice in three months has been released by police.
In the first attack in Stockwell the 22-year-old victim was targeted on 12 April by the man who is said to have a distinctive scar on his upper lip.
On 14 July the woman was attacked by the same man after getting off a bus and walking into Dorset Road.
Police are not sure if the woman was specifically targeted the second time.
'Gripped by fear'
Officers said the suspect's DNA profile would allow them to eliminate anyone not connected to the rapes.
Det Con Helen Hamilton said: "The victim was completely gripped by fear during both incidents and now has to live with the impact these attacks have had on her and her life.
"We simply don't know if the suspect was targeting this particular woman or if it was a coincidence that he saw her again on 14 July.
"We are not linking the rapes to any other incidents or crimes in the area.
"I am urging anyone who may recognise the suspect from either the e-fit or the description to contact the police as soon as possible."