Rainbow alliance opposes spending cuts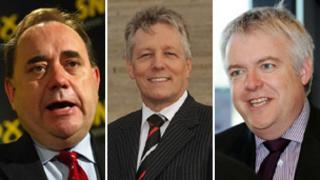 When David Cameron told the Conservative Party conference that Labour was the only group opposed to the coalition's spending plans, he was wrong.
A rainbow alliance of the parties which run the three devolved administrations has been formed to join the criticism.
The first ministers of Scotland, Wales and Northern Ireland have agreed a joint declaration against the UK government's approach to reducing the deficit.
The document says that the coalition's cuts are "too fast and too deep" and risk stalling the economic recovery.
It argues that front-loading the cuts over the next two years is "entirely the wrong approach for the economy".
The trio of first ministers and their deputies also urge Chancellor George Osborne to scale back spending cuts and phase them in over a longer period.
The joint declaration is an attempt to influence the comprehensive spending review to be announced on 20 October.
It will also be seen as an attempt by the Scottish National Party, Labour and Plaid Cymru in Wales and the Democratic Unionist Party and Sinn Fein in Northern Ireland to distance themselves from the cuts to come.
Spread the pain
There are elections to the Scottish Parliament, the Welsh Assembly and the Northern Ireland Assembly next May.
Prime Minister David Cameron strongly defended his government's approach to deficit reduction in his conference speech.
Mr Cameron said there was "no other responsible way" and warned that delaying action would mean cuts would be "bigger, not smaller" in future.
The three devolved administrations are dealing differently with the additional spending cuts announced by Mr Osborne in his emergency budget in June.
The chancellor gave them permission to spread the pain over two years.
In Wales and Northern Ireland they decided to start implementing the extra cuts in this financial year.
The Scottish government chose to defer its share until the 2011/12 financial year.