Warning to travellers of crime link to fake goods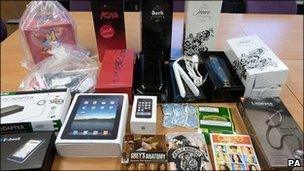 Travellers leaving Scottish airports and ports for the October break are being warned that buying fake goods can help finance serious organised crime.
The Scottish Crime and Drug Enforcement Agency and the UK Border Agency are asking holidaymakers to shun the lure of counterfeit goods.
They are highlighting the growing trend of criminal gangs branching out into counterfeiting.
Events are being held at domestic airports and ports until 18 October.
SCDEA staff, supported by officers from the UK Border Agency, were due to be at Glasgow Airport on Friday morning, reminding travellers of the links between fake goods and serious organised crime.
They will also be present at Scotland's other airports, the Rosyth Ferry terminal and on ferries travelling between Stranraer and Belfast.
They are highlighting the growing trend of criminal gangs branching out into counterfeiting new products like downloadable e-books, digital music, and hair straighteners.
The trade in counterfeit goods - or intellectual property (IP) crime - involves the counterfeiting, piracy and trademark infringement of goods, including designer clothes, handbags, trainers, electronic goods, CDs and DVDs.
A report in 2006 estimated that criminal gangs raked in £90m in profits from the sale of counterfeits.
Det Ch Insp Ronnie Megaughin, deputy head of interventions at SCDEA, said: "People need to be aware that the trade in fake goods is not a victimless crime. There is no such thing. It is linked to a bigger and more insidious picture.
"Those who are involved in this illegal activity are very often also responsible for peddling drugs in our communities, forcing people into the sex trade and trading in firearms.
"These individuals will exploit any and every opportunity to further their power and profit, and they are quick to identify new products that are popular with consumers that they can counterfeit."
Murdo MacMillan, assistant director of the UK Border Agency in Scotland, added: "Smugglers are only out to make a profit. The goods are often dangerous and the proceeds can be used to fuel serious organised crime.
"Many people enjoy finding a bargain and that is even more true during an economic downturn - but the UK Border Agency's message to the public is straightforward: Quite simply, if something appears to be too good to be true, it probably is."
Related Internet Links
The BBC is not responsible for the content of external sites.