Immigration appeal over X Factor Gamu's visa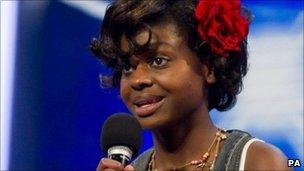 The lawyer for the family of X Factor entrant Gamu Nhengu has confirmed she will appeal against a Home Office decision to send them back to Zimbabwe.
Frances Farrell said she had intended to seek a judicial review, but now believes there are grounds to appeal directly to the immigration tribunal.
Gamu's mother, Nokuthula Ngazana, was refused permission to stay in the UK after her visa expired in August.
Mrs Ngazana has been living in Clackmannanshire for eight years.
Her daughter was controversially eliminated from ITV's X Factor on Sunday. The show's bossed have denied reports that the decision was influenced by fears that Gamu's visa was about to run out.
Almost 250,000 people have joined a Facebook campaign calling for Gamu's return to the show.
Family lawyer Mrs Farrell said the situation had been "very upsetting for all the family" and deplored the leaking of confidential details of the case to some newspapers.
"We believe there is a right of appeal against the decision and we're going to be lodging an appeal with the immigration tribunal as soon as possible," she said.
"My client has been in this country for about eight years now, absolutely legally all the time."
She also said she would refute claims that the family had claimed benefits illegally, contending that Gamu's mother Nokutula Ngazana had been advised by the Inland Revenue that she could claim Working Tax Credit and Child Tax Credit.
The visa extension was turned down on the grounds there was an administrative error in the application.
The family's solicitors said the error was due to Mrs Ngazana giving the wrong bank details, so the fee for the application could not be taken.
The application was judged "out of time" as a result, but the lawyers said it was lodged in time.
A crowd of about 150 people gathered outside the family's home in Tillicoultry to show their support after news of the visa refusal was made public.
Many of them were pupils at Alva Academy, where Gamu used to be a pupil.
And locals have now started an online petition against the decision by the UK Border Agency.
More than 1,100 people have signed the appeal started by John Locke, the pastor of the evangelical church that Gamu and her family attend.
Related Internet Links
The BBC is not responsible for the content of external sites.