Calculating the cost of aircraft carriers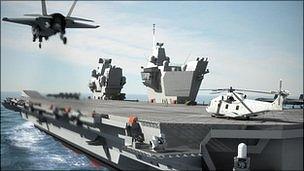 Cancelling one of the aircraft carriers under construction would cost more than building both, the BBC has learned.
The calculation was expected to form part of a ministerial meeting with military chiefs, as they prepared the strategic defence review.
The Royal Navy's biggest ships are being built in parts on the Clyde and at several English locations, before assembly at Rosyth in Fife.
The cost of the carriers is understood to have risen £200m to £5.4bn.
The BBC has learned that the contract adds large penalty clauses which would push the cost of cancelling one carrier up to £5.7bn.
The top level talks on the strategic defence review broke up on Thursday without agreement on where the spending axe should fall.
The prime minister led a team of coalition ministers with military top brass, who put off final decisions until early next week.
The first defence review for 12 years is being carried out at the same time as the spending review, with deep budget cuts causing more tensions than in any other Whitehall department.
Last week the Scottish political party leaders met Defence Secretary Liam Fox in a fight to save defence jobs, bases and orders.
First Minister Alex Salmond warned that cancelling two Royal Navy aircraft carrier contracts could cost £3bn and lead to the end of shipbuilding in Scotland.
Scotland's defence industry generates an estimated £1.8bn turnover and employs more than 12,600 people, excluding jobs in MoD facilities.
Related Internet Links
The BBC is not responsible for the content of external sites.