Lib Dems call for public sector pay clampdown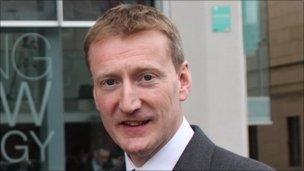 The salaries of the public sector's top earners should be cut by 10%, according to the Scottish Liberal Democrat leader.
Tavish Scott made the announcement during the launch of the party's pre-election manifesto.
He was joined by Business Secretary Vince Cable to unveil the document six months ahead of next May's vote.
Mr Scott said his party would focus on creating jobs and reforming public services.
He said the Lib Dems also wanted to restore Scotland's reputation for excellence in education and reform the country's enterprise agencies to create Regional Development Banks offering investment for local business.
Speaking at the launch in Edinburgh, Mr Scott said: "We are focusing on three big themes.
"They are connected and will all contribute to a future for Scotland that is fair and more prosperous than we have known before.
"Our plans will rebuild employment, support the creation of new businesses and jobs and equip every person with the skills, the drive and power they need to reach their potential."
Referring to the public sector's highest earners, Mr Scott said: "For the first time we want to make sure that Parliament will have to approve that spend. I don't mean on individual contracts, that would obviously be daft.
"In overall terms, Parliament would have to take a formal process through the budget looking at that pay bill.
"If you're investing more than a Cabinet minister's salary in a public official in Scotland, I think Parliament should be asking why."
Mr Scott said his party had "innovative proposals" on economic development that would help boost local economies.
He said: "Our main new idea is our Regional Development Banks. We want to see a network of banks that will provide the credit for business growth that just doesn't exist at the moment."
He said his party would promote plans to create jobs in renewable energy, life sciences and technology.
Mr Scott also attacked the SNP's education policies, saying the party had a catalogue of "broken promises".
He said: "We are determined that the brightest children get their fair chance at higher education, whatever their family background and whatever the community they come from.
"This is our vision for the next decade of the kind of country we want Scotland to be."
The Scottish Liberal Democrats are due to vote on the pre-manifesto at their autumn conference which begins on Saturday.
Related Internet Links
The BBC is not responsible for the content of external sites.