Have your say in the Big Cuts Debate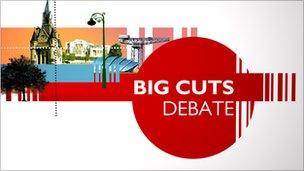 BBC Scotland is looking for audience members to take part in its Big Cuts Debate about the future of government spending.
Would you pay higher taxes to prevent deeper cuts in public services?
Should means testing be introduced for services like personal care for the elderly?
Where do you stand on tuition fees or a graduate tax? Should the NHS be exempt from government spending cuts?
Is the coalition government's proposal to cut child benefit from higher tax payers fair or an attack on middle class families?
Has the public sector grown too large or do we risk doing lasting damage to the fabric of our society and to the economy's ability to recover if cuts are too quick and too deep?
The Big Cuts Debate will be hosted by Glenn Campbell and will be recorded on the evening of Wednesday 13 October at BBC Scotland's studios at Pacific Quay in Glasgow.
The programme will be broadcast on BBC One Scotland at 2245 BST, and will also be streamed on the internet.
If you'd like to take part, or just want to come along and watch, please e-mail the production team at TVdebates@bbc.co.uk as soon as possible and leave a daytime contact number or e-mail address.