Scots MPs get top jobs in shadow cabinet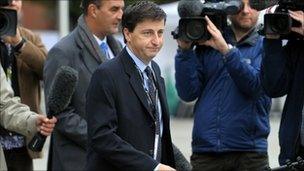 The two Scots who helped run David Milliband's failed Labour leadership campaign have been given top jobs in Ed Miliband's shadow cabinet.
Douglas Alexander will shadow the work and pensions portfolio and the former Scottish Secretary, Jim Murphy, becomes shadow defence secretary.
The MP for Glasgow North, Ann McKechin, has been given the job of shadowing the Scottish Secretary, Michael Moore.
Mr Miliband said his team had been "drawn from a broad range of talents".
The new Labour leader added: "My team is united in one central mission for the future - to win back the trust of the British people and take Labour back to power.
"Together, this new generation of Labour will work together to reject the pessimism of this coalition government as we set out our vision of what Britain can achieve.
"Our values are those of the British people, and this shadow cabinet will ensure that the hopes and concerns of working families are at the heart of our offer to the country."
Related Internet Links
The BBC is not responsible for the content of external sites.