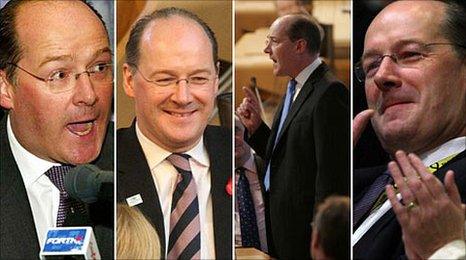 Few leading members of the SNP today have roots which reach as deeply as John Swinney does.
The Scottish finance secretary's approach to steering the Nationalists' first budget through tough opposition almost made the troubles which hit the party during his leadership seem a dim and distant memory.
As well as his profile in government, Mr Swinney is also a popular figure in his Tayside North constituency, where despite his tag as "minister for everything", he finds time to attend numerous events from art gallery openings to coffee mornings.
Seen as one of the SNP's key thinkers and strategists, the former MP joined the party at just 15, and was elected national secretary in his early 20s, at a time of organisational turmoil, prompted by heavy losses in the 1979 UK election.
Born in Edinburgh in 1964, the politics graduate pursued a career in Scotland's financial sector before entering parliament, latterly working as a strategic planning principal with Scottish Amicable.
Elected deputy SNP leader in December 1998, Mr Swinney was credited, along with Alex Salmond, for taking a business-friendly approach to economic policy while encouraging a broad approach to encompass "middle Scotland".
The pro-European also drafted the "Penny for Scotland" policy, by which the Nationalists promised to reverse for Scotland alone a UK tax cut of 1% on the basic rate and to divert the cash to social need - a plan which was later abandoned.
When devolution happened, Mr Swinney was aware of the danger that the new parliament would block the road to independence but, publicly, described devolution as "the greatest mistake the Unionists ever made".
He succeeded Mr Salmond as SNP leader, in 2000, having expressed a desire to "reconnect" with grassroots activists - but it was one of those activists which led the party into one of its darkest eras in recent times.
At first minister's question time, one of Mr Swinney's favoured tactics was to unleash a barrage of statistical information at his opponent and, while the approach had some effect, critics said he lacked the bite to be an effective leader.
He masterminded one of the SNP's slickest election campaigns in the 2003 Holyrood poll, but, later that year, little-known Glasgow SNP activist Bill Wilson challenged Mr Swinney for the leadership, accusing him of ducking responsibility for a "plummeting" SNP vote.
Mr Swinney won a decisive victory over Dr Wilson - who became an MSP in 2007 - but the contest itself, brought by an unelected activist with little chance of winning, was publicly damaging.
The situation inside parliament was little better, where Nationalist MSPs, Bruce McFee and Adam Ingram declared that they would not support Mr Swinney in a leadership ballot amid claims he had watered down the commitment to independence.
Another, Campbell Martin, was flung out of the party after bosses found his criticism of the Swinney leadership damaged its interests in the run-up to the SNP's poor European election showing in 2004, where it failed to overtake Labour.
Eventually, after a four-year reign, Mr Swinney quit the leadership, accepting responsibility for failing to sell the party's message - but warned SNP members not to underestimate the damage caused by "the loose and dangerous talk of the few".
Years later, when the then Scottish secretary, Jim Murphy, joked during a joint press conference that, "there's nobody in Scotland who doesn't like John Swinney. I think you would make a great leader of your party", Mr Swinney jokingly replied: "We tried that - and we saw where it got us."
The SNP's election win allowed Mr Swinney to put that period firmly behind him with his appointment as the most powerful of the Salmond administration's cabinet secretaries.
Holding the finance portfolio, the opposition brief he took on in 2005, allowed him to concentrate on what he was best at, and he was widely seen as having played a blinder in enabling the passage of the first SNP budget.
With the minority government in need of opposition votes to pass the spending plans, in which Mr Swinney allocated practically every penny of available cash, he announced several last-minute concessions, including boosting police recruitment, while declaring the UK Treasury settlement to be the tightest ever.
Predicting a tight vote, he also agreed to boost climate change funding to attract the two Green votes - they eventually abstained - and the prospect of special capital funding status for Edinburgh to tickle the fancy of Lothian independent Margo MacDonald.
Mr Swinney has also put these skills to use when dealing with the UK government to make the case for more funding, to varying degrees of success.
He then turned to plans for replacing council tax with a local income tax, having convinced local authorities to sign up to a new concordat.
The agreement gave them the money to freeze council tax and spend more freely on a commitment to deliver efficiency savings.
Amid a lack of parliamentary support for the local income tax and a more low-key launch for the policy compared to that on the "national conversation" on the constitution, the policy was later dropped.
With the UK government unveiling deep spending cuts in order to tackle the UK deficit, Mr Swinney now faces the greatest test of his ministerial career - in his new-found designation as "minister for cuts", he has continued to make the SNP's case that Holyrood governments are stuck with the funding they receive from the UK Treasury.