Cubie: Scots graduates 'should now pay' for university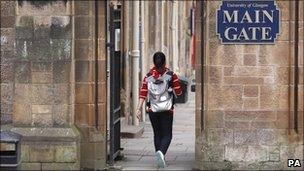 Scotland's system of university funding is unsustainable without some contribution from graduates, according to the man who chaired a landmark inquiry into student funding.
Sir Andrew Cubie's investigation a decade ago led to the abolition of tuition fees north of the border.
But now he has said the present funding regime is unsustainable.
His comments come on the eve of a report expected to recommend the cap on tuition fees in England be removed.
The review, by former BP chief Lord Browne, is due to publish its recommendations on Tuesday.
But the BBC understands ministers south of the border are now moving towards charging most graduates a flat, market rate of interest on their loans, with only graduates on low salaries enjoying the lower rate.
The earnings level at which they start repaying loans may also be raised from the current level of £15,000.
Currently all graduates pay a low interest rate, linked to the base rate, on their tuition fee and maintenance loans.
In Scotland, tuition fees were abolished in 2000, two years after their introduction by the Blair government.
An on-off graduate endowment fee of just over £2,000 was scrapped by Scottish ministers in 2008.
Sir Andrew Cubie, whose inquiry in 1999 recommended the abolition of up-front tuition fees, said it would now be difficult to sustain a system which did not incorporate fees.
He said if the coalition government in Westminster decided to implement the measures likely to be included in Lord Browne's report, that would pose a problem for Scottish universities.
"That will give funding streams to English universities which Scottish universities don't have at the moment," he said.
"I have been very full of praise for the Scottish government for their view that they could fund higher education from the public purse in Scotland.
"With the impending cuts and the consequences of those cuts for Scotland, it becomes very difficult to see how we can sustain our present funding regime with no contribution coming from a graduate."
He said it would be hard to envisage how the higher education system in Scotland could be sustained in competitive terms if another funding stream was not found.
Sir Andrew said there was "abundant" evidence that graduates earned more then those who did not go to university, therefore it was reasonable to expect them to start paying something.
In a speech later, for the David Hume Institute in Edinburgh, he is expected to say this should begin after graduation, when salary cheques are coming.
However, he told BBC Scotland the issue of up-front payments should not be considered and that concern over debt could be minimised by the imposition of a minimum threshold and maximum payment.