Scots 'tend to blame Labour' for cuts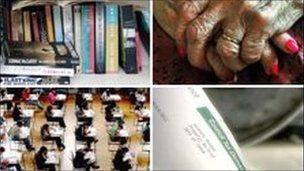 Scots tend to blame the former UK Labour government for forthcoming spending cuts, according to a survey for BBC Scotland.
Nearly 75% of the 1,000 respondents favoured cutting spending rather than increasing taxes to plug the deficit.
But the poll also suggests they would like the programme of cuts to proceed more slowly, a policy which has been advanced by Labour and the SNP.
The poll comes as the chancellor prepares to reveal his spending plans.
After the details are announced next week, Scotland's Finance Secretary John Swinney will calculate the impact upon Holyrood spending and announce his detailed proposals.
On the issue of responsibility, the poll deliberately focused upon potential political consequences - excluding, for example, the option of blaming the banks.
Asked who was most responsible for upcoming cuts, 42% chose the former UK Labour government while 39% named the present UK coalition government.
A further 13% pinned the blame on the SNP Scottish government.
Those proportions, of course, might change once the cuts are actually announced and, more importantly, start to bite.
In general, 74% favoured a focus upon cutting spending rather than increasing taxes.
But it would seem that there is caution too. It appears from the survey that a big majority would prefer to cut spending more slowly.
Respondents were presented with two broad options. One was to "cut spending quickly even if it means immediate job losses because it will be better for the economy in the long-run". That latter point has been repeatedly emphasised by Chancellor George Osborne.
The second option was to "cut spending more slowly, to reduce the impact on public services and the economy". That is, broadly, the case advanced by Labour and the SNP.
Asked to choose, 81% plumped for slower cuts while 19% thought it was important to cut spending quickly.
The chancellor remains adamant that it is vital to maintain the pace on public spending cuts in order to reassure international markets.
But this finding, if replicated in other polls, may underline the wider debate about the timing, scope and presentation of the cuts.
People gave a range of responses to the question of whether the Scottish government should use Holyrood's tax-raising powers to minimise the impact of spending cuts in Scotland.
Most tended to agree - but those with strong opinions either way were in the minority. No major party at Holyrood is currently offering to use the parliament's tax-varying powers.
More details from the poll will be published here on Wednesday.