Scottish house price recovery 'ahead of UK'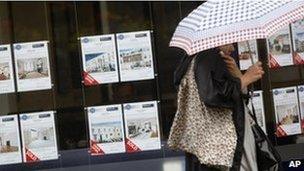 House prices are recovering faster in Scotland than the rest of the UK, figures from surveyors have suggested.
The Royal Institute of Chartered Surveyors said the the property market outlook remains positive although public sector cuts could dent sales.
In total, 10% more Scottish chartered surveyors reported a rise rather than a fall in house prices in September, compared with 3% in August.
Across the UK, more surveyors reported falling rather than rising prices.
Craig Henderson, of Graham & Sibbald chartered surveyors in Glasgow, said: "The market is showing signs of a recovery after a sluggish summer period.
"Traditional bungalows in suburban locations remain in fair demand. The large deposits required by first time buyers as a result of restrictions in lending criteria continues to dampen this sector.
"The successful introduction of home report means that first time buyers no longer have to meet the cost of a survey and this is helping to ease the market."
However, surveyors warn fewer people may buy properties in the wake of looming public service cuts, with firms expecting sales to fall in the coming months.
Graeme Hartley, director of Rics Scotland, said: "Demand for property in Scotland rose sharply in the past month and with new instructions rising at a slower rate, surveyors have reported a rise in price expectations.
"However, sales expectations are down which perhaps signals that future potential homebuyers are postponing any purchases until the full extent of the government cuts are announced in October."
Related Internet Links
The BBC is not responsible for the content of external sites.