Pope's gift to the Queen on display at Holyroodhouse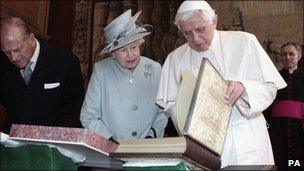 A copy of the 1,200-year-old book which the Pope gave to the Queen on his visit to the UK has gone on display at the Palace of Holyroodhouse in Edinburgh.
The manuscript, known as the Lorsch Gospels, contains more than 400 pages written entirely in gold ink on vellum.
The facsimile edition which Benedict XVI presented to the Queen featured reproductions of the ivory covers.
During the visit the Queen presented the Pontiff with a facsimile of drawings by Hans Holbein the Younger.
The manuscript was written in the early 9th Century at the court of the Emperor Charlemagne in Aachen, Germany, and was first recorded in the Imperial Abbey of Lorsch in Germany around 860.
The book remained at Lorsch Abbey in Germany until 1556.
It was split into two before it left the abbey and at some point the ivory front and back covers - depicting the Virgin and Child with St John and the prophet Zachariah, and the figure of Christ - were also removed.
The back cover is now in the Vatican Library and the front cover is in London's Victoria and Albert Museum.
The edition presented to Elizabeth II combines all parts of the manuscript in one volume for the first time in 500 years.
Pope Benedict's four-day visit to the UK last month was the first state visit by a Pontiff to Britain and took him to Edinburgh, Glasgow, London and Birmingham.