Scots 'strongly against' NHS spending cuts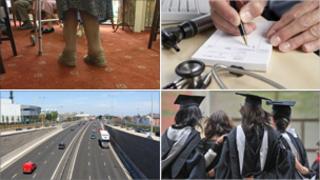 Scots have come out strongly against spending cuts in the National Health Service, according to an exclusive poll for BBC Scotland.
The finding is at odds with that of the independent Beveridge Report on Scottish spending plans, which said the NHS should not be exempt from cuts.
Ipsos MORI asked 1,000 Scots about 10 areas where savings could be made ahead of the UK government's spending review.
The Scottish government is due to publish its budget in November.
Respondents were asked to comment on the 10 options for saving money featured in the Beveridge Report, commissioned by the Scottish government.
Those polled by Ipsos Mori came out vigorously against the notion of cutting health spending in line with cuts due to be made elsewhere.
That applied to men and women, across social groups and the age range.
This finding helps explain why the UK government has promised a real terms increase for the NHS - and why the Scottish government has pledged to match that promise for Scotland.
This was a "forcing" poll: That is, it obliged respondents to make a choice without giving them the option "none of the above".
It works like a football league.
The contenders for cuts are pitted against each other as respondents are asked to make a series of choices.
Those choices work like match fixtures and the eventual result is a league table.
In the poll - conducted between 17-22 September - the option which topped the cuts league was the idea of raising the age at which people qualify for free bus travel from 60 to 65.
Not surprisingly, that was less popular among older age groups - although still their number one choice.
Ranked second for a cut was the notion of a two-year pay freeze in the public sector, except for those on low incomes.
Pay restraint may well have a role to play when UK and Scottish ministers announce their plans.
Those two options were relatively strongly supported. After that, we are into mid table territory.
Ranked third was the concept of charging drivers for using major roads.
For households with cars, that idea dropped down the division - but only one place, to fourth.
Then, in order, the following: Charge older people on higher incomes for personal care; charge students fees; cut jobs in the public sector; cut public sector pensions; increase prescription charges for those who pay.
Raising more money by increasing the council tax was also relatively disliked, coming ninth out of 10 in the league table.
That will encourage those who support a continued freeze.
And finally to the least popular option: Cutting spending on the NHS. Very few Scots, it seems, are prepared to sanction that - whatever the experts say.
BBC Scotland is hosting a Big Cuts Debate on the future of government spending. The programme will be broadcast between 2245 and 2335 BST on BBC One Scotland on Wednesday and will be streamed live on the BBC Scotland news website.