Scots law firms 'face perfect storm'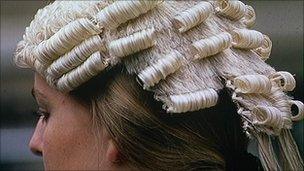 Scotland's legal profession is in the midst of a "perfect storm" brought on by the recession, regulatory changes, rising tax and falling client numbers.
The analysis - by industry advisors PKF - comes as it launched a survey of the top 30 legal practices in Scotland.
They have warned the current climate could result in upheaval to the sector.
Charles Barnett, professional services partner with PKF, said: "Arguably, the legal market has never been more challenged."
He added: "It is in the midst of the perfect storm due to the combination of the recession, regulatory changes, rising tax rates and diminishing level of instructions from clients.
"As with all sectors so much depends on the rate of recovery within the Scottish economy and there are so many variables that planning for the coming year has rarely been more difficult.
"However, Scotland's legal sector is renowned for being innovative and open to new ideas and there has never been a greater need for those two qualities than the present economic situation."
Related Internet Links
The BBC is not responsible for the content of external sites.