Lloyds Banking Group to cut 390 jobs in Scotland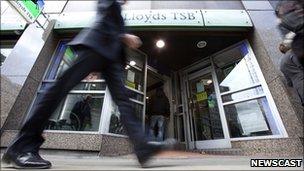 Nearly 400 Scottish jobs are to be cut by Lloyds Banking Group by the end of 2012, it has been announced.
The part-nationalised bank said 330 IT and operations post would be cut in Edinburgh, with a further 60 going in Rosyth, Glasgow and Dunfermline.
The company said it hoped to minimise compulsory redundancies by natural staff turnover over the next two years.
The Scottish losses are part of 4,500 job cuts in the firm's IT operations, 1,750 of which are based overseas.
The bank said 1,600 permanent roles will be cut across the UK, and 1,150 temporary and contract staff will be "released".
It is the latest round of job losses at the bank, which is 41%-owned by the government after a £20bn rescue in 2008.
The group employs about 20,000 staff across Scotland, half of whom work in the capital.
In Edinburgh, 200 of the 330 posts which will go are permanent positions.
A spokesman for the group said it had a staff turnover in Scotland of about 10%.
"Compulsory redundancies are a last resort and some staff may wish to retire or take voluntary redundancy," he said.
A Scottish government spokesman described the announcement as "extremely disappointing" and said it would be an anxious time for the staff who might be affected.
"The Scottish government will do all we can, working with the company, and in particular through the Finance Sector Jobs Taskforce, to help minimise job losses in Scotland," he added.
"We also stand ready - through Skills Development Scotland - to provide tailored support to anyone who does lose their job under the Partnership Action for Continuing Employment initiative."
Cath Speight, national officer of the Unite union, said: "It is now time for the government to step in and demand answers on behalf of taxpayers and staff.
"The announcement of 4,500 job cuts today lets down their staff, customers and the taxpayers with no acknowledgement of LBG's social responsibilities."
Scottish Lib Dem finance spokesman Jeremy Purvis said the move made it "all the more imperative" that the jobs taskforce was convened immediately.
Labour urged Scottish ministers to intervene to save banking jobs in Edinburgh.
Related Internet Links
The BBC is not responsible for the content of external sites.