In profile: Kenny MacAskill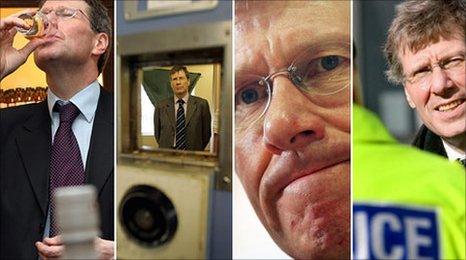 A spell in police custody may have not been the best start to the career of an MSP who would go on to take charge of Scotland's justice department - but Kenny MacAskill has more than moved on from those days.
Since becoming the Scottish Government's justice secretary, following the Scottish National Party's 2007 election victory, the Edinburgh-born solicitor has never had his work to seek.
Dealing with crowded jails, prisoners on the run and police recruitment is one thing - but Mr MacAskill will be forever remembered over his hugely controversial decision to release from prison the only man ever convicted of the Lockerbie bombing - the UK's worst terrorist atrocity.
Throughout his political career, he has been a forceful, sometimes controversial, speaker.
His headline-grabbing speeches as an opposition politician, on issues from airport landing charges to gun control, continued into his tenure as Scotland's justice secretary.
This made Mr MacAskill's decision to retreat virtually into private to decide whether Abdelbaset Ali Mohmed Al Megrahi should die in prison from cancer or return home to his native Libya on compassionate early release all the more uncharacteristic.
Born in 1958, Mr MacAskill served as a Lothian list MSP until 2007, when he won the Labour-held Edinburgh East and Musselburgh seat.
His love for the Scottish football team saw him held in custody for the duration of a Scotland v England match at Wembley in 1999, which he dismissed as a "simple misunderstanding" after being neither cautioned nor charged.
Traditionally considered a fundamentalist on the left of the SNP, which criticised Alex Salmond's "gradualist" approach to independence, he took care to avoid being tagged a dissident by supporting the leader at critical moments.
Most notably, he stood in as the party's interim treasurer after post-holder Ian Blackford was suspended in 2000.
When the international banker threatened to sue Mr Salmond after he successfully moved a "no confidence" motion, it was Mr MacAskill who helped to defuse the situation by writing to party members.
Two years later, veteran Margo MacDonald - then still a Nationalist MSP - accused Mr MacAskill and his supporters of plotting to have her ousted from parliament after he took her former ranking on the Lothian list while she dropped to fifth, cutting her chances of re-election.
As SNP transport spokesman, Mr MacAskill - himself a former deputy leadership contender - flew headlong into the issue of airport landing charges.
He attacked Inverness Airport - operated by the state-owned body HIAL - claiming it had the highest landing charges in Europe.
He also backed RyanAir, which had criticised management inflexibility at Inverness over discounts on the fees. This was during a failed attempt by the budget airline to operate from the Highland capital.
On becoming justice spokesman, Mr MacAskill lobbied hard for Holyrood to be handed powers on firearms in the wake of the death of two-year-old Andrew Morton, shot in Glasgow by airgun-wielding criminal Mark Bonini.
He called for shops in Scotland selling the weapons to be licensed but his argument that Scotland's distinct air weapon problem had to be addressed separately was dismissed by the Labour-led Holyrood government.
Taking the issue on as justice secretary, he came up against a further brick wall when UK Home Secretary Jacqui Smith snubbed an invitation to co-host a firearms summit with him - leading Mr MacAskill to brand her "complacent".
In 2004, he focussed his footballing passion on the crisis surrounding the SPL.
With Livingston, Motherwell and Dundee teams in administration, he said major reforms were needed to help the sport while supporting First Minister Jack McConnell's reluctance to bail out troubled clubs with taxpayers' money.
That same sporting passion led Labour to brand Mr MacAskill "anti-English", after he backed Germany's bid to host the 2006 football World Cup, ahead of England.
The justice secretary had form in this area - long before becoming an MSP, Mr MacAskill once referred to the England football team as "the great Satan" during an SNP conference.
Following the 2007 election Mr MacAskill took charge of justice, immediately finding the Conservatives, with their hard-line policies in the area, a thorn in his side.
Tory MSP Bill Aitken, convener of Holyrood's justice committee, oversaw a critical report on police recruitment - which the new government agreed to boost in a budget concession.
Mr Aitken's committee also challenged plans to extend electronic tagging, to cope with Scotland's record prison population.
Despite announcing a new north east super-prison to replace Aberdeen and Peterhead, Mr MacAskill embarked on a strategy to drive down re-offending rates through the use of community sentences as an alternative to short jail terms.
The minister was later criticised after describing life in Scotland's jails as "a bit of a skoosh".
In his drive to tackle Scotland's record of alcohol-fuelled violence, he decided to raise licensing fees and laid out plans to outlaw cut-price and free alcohol offers in shops.
The tactics went down badly with traders - but Mr MacAskill stood firm, saying it was time to "put communities before profit margins".
Elsewhere, Mr MacAskill announced his intention to overturn a House of Lords ruling preventing workers suing employers over the asbestos-related condition pleural plaques.
And, in one of Scotland's most notorious cases in recent years, he apologised to a schoolgirl raped by Robert Foye, who was on the run from Castle Huntly open prison near Dundee, while taking steps to ensure such an incident never happened again.
But, whatever Mr MacAskill has said and done in the past, his role as a key figure in the Lockerbie case promoted him to take a different approach.
The minister's decision to visit Megrahi in prison on 5 August - criticised by some - seemed to have demonstrated a bit of the old MacAskill flair.
The justice secretary later said he was duty-bound to meet Megrahi as the prisoner made his case.
At the same time, Mr MacAskill chose to work away on his final decision - taking soundings from all sides.
This included British and American relatives and the Libyan government as well as US Secretary of State Hillary Clinton - who told him directly of America's concern at the prospect of Megrahi returning to Libya.