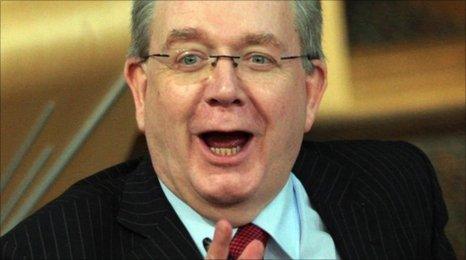 Over the years, the Scottish National Party has seen its fair share of ups and downs.
So it's perhaps fitting that the man seen as one of its brightest talents has seen his own career within the party follow similar highs and lows.
Between his appointment as SNP chief executive in 1994 and his instalment as Scotland's education secretary 15 years later, Mike Russell lost his seat in parliament as well as a bid to lead the party.
And somewhere along the way, he fell foul of the SNP machine until his reconciliation and promotion to the Scottish cabinet some years later.
Mr Russell was born in Kent, and, after studying at Edinburgh University, worked for the Church of Scotland before starting a career as a film and TV director.
By the time he was elected as an MSP in 1999, Mr Russell was already a high-profile figure in the party, having taken a role in running their election campaigns.
His first time at Holyrood saw him lead a campaign to put Gaelic on an equal footing with English.
But four years on, and the regional MSP for the South of Scotland became one of the casualties of the SNP's now-abolished ranking procedure for candidates, losing his seat in 2003.
During John Swinney's time as SNP leader - a not altogether happy time for the party - Mr Russell borrowed from the fable of Tory Party's fixers in grey suits to warn that electoral reverses for the party would prompt a visit to Mr Swinney "from the men in grey kilts".
When Mr Swinney quit, Mr Russell made a pitch for the leadership - but was beaten by Alex Salmond.
Much was made at the time of Mr Russell's poor chances given his status as an unelected politician.
But, with Mr Salmond an MP at the time, his rival raised concern about the party - whose focus was now on Holyrood - being overseen by an "absentee laird".
Years later, and with much water having flowed under the bridge, Mr Russell made a return to Holyrood in the 2007 election, won by the SNP.
He entered government proper in the junior post of environment minister, but a reshuffle saw him moved to the culture brief.
That role was beefed up with responsibility for the constitution - in recognition that the SNP's policy on an independence referendum needed skilful handling.
With several areas of the SNP's education policy under fire, including a pledge to cut class sizes, Mr Russell was made education secretary, moving, as one government advisor put it, at "a hundred miles an hour" as soon as he was confirmed in the post.
He was also forced to deal with a little local trouble when his constituency aide, Mark MacLachlan, quit after using an internet blog to make what Labour described as "vile smears".
In a perfect display of Mr Russell's killer instinct - he issued a threat to sue Mr MacLachlan over suggestions the minister was aware of the blog.
Despite Mr Russell's increased status within the SNP, he has not found himself immune from that old political pitfall of past actions coming back to haunt you.
Labour MSPs recently raised eyebrows after Mr Russell was said to have described Glasgow as having "closes smelling of urine and rubbish, cluttered with dirt and debris" and branding the flag over Edinburgh Castle, "an awful mutant tablecloth".
The comments were made in a travel book about Scotland's towns and cities - written in 1998.