In profile: Richard Lochhead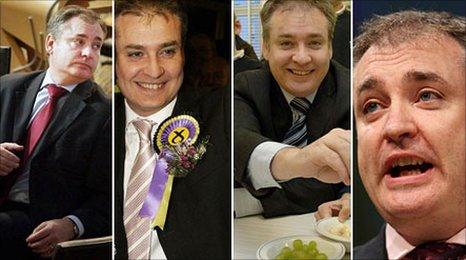 Richard Lochhead may not instantly spring to mind as one of the shining beacons of Nationalism.
His feat in holding onto the seat of Moray for the SNP with an increased and comfortable majority in a by-election a year before Scottish voters went to the polls in May 2007 was held up as an example of things to come.
That same by-election saw Labour slump to fourth.
Born in Paisley in 1969, Mr Lochhead, who first entered parliament as a North East list MSP, previously worked as an economic development officer for Dundee City Council.
Seen as something of a protege of Alex Salmond, he worked as the future first minister's office manager from 1994-98, during which time he fought in local and national elections.
As SNP fisheries spokesman in the Scottish Parliament, Mr Lochhead worked to ensure his party had a strong voice in Europe during a time of great uncertainty for the industry.
He helped inflict the first Holyrood defeat on the Labour/Lib Dem government over its proposals to help fishermen, after seizing on their angry response to ministers' refusal to compensate skippers who agreed to a voluntary tie-up.
The married father-of-one also found time to raise issues of concern in his north east patch.
He called for a probe after discovering a quarter of equipment in Grampian hospitals should have been replaced and raised concern about the cost to Scotland of monitoring notorious sex offender Steven Beech, who had moved to Aberdeenshire from England.
He also, in 2004, attempted to block the sale of a house built at the reputed birthplace of Scots hero and outlaw Rob Roy MacGregor and also found time to brand rail timetables "barmy".
In early 2006, Mr Lochhead was named as the SNP candidate to defend the Moray seat at Holyrood the following year after the sitting MSP, Margaret Ewing, decided to step down.
In the selection contest he beat Mrs Ewing's sister-in-law, Annabelle, who was in need of a comeback after failing to be re-elected as an MP.
This move also allowed Mr Salmond an almost guaranteed return to the Scottish Parliament at the top of the north east list.
Following Margaret Ewing's death at the age of 60 after a long illness, Mr Lochhead was required to step up sooner than expected.
And so commenced a bitterly-fought by-election campaign, during which Conservative candidate Mary Scanlon's claim to be the "natural successor" to the late Mrs Ewing caused offence within the SNP.
Following his appointment as environment secretary, Mr Lochhead began courting the Scottish Fisherman's Federation, offering to involve the body more closely with government, winning its support at the next EU talks in return.
His first major test came when the foot and mouth crisis required him to work closely with his UK counterparts on restrictions, while only a few months into the job.
There were still brushes with Westminster ministers though, when he criticised plans not to devolve offshore marine control to Scotland and demanded powers to be able to block controversial plans for ship-to-ship oil transfers in the Firth of Forth.
Mr Lochhead also broke ranks with the UK Government after ruling out the deep burial of nuclear waste in Scotland.
Despite his elevated status, he has continued to find himself a target for some of his more acid-tongued political opponents.
During a Holyrood debate on the government's ministerial appointments, Tory deputy leader Murdo Fraser put forward an amendment to have Mr Lochhead "deleted".
Mr Fraser told parliament: "He has had his reward for years of slavish loyalty to his leader and we wish him well."