SNP offers two-year council tax freeze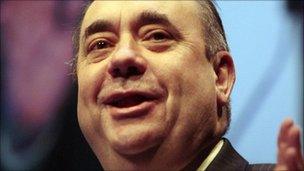 The SNP has announced that it plans to extend the freeze on council tax beyond the next election.
Deputy leader Nicola Sturgeon told her party's conference funding would be found for a freeze in 2011-12 and again in 2012-13, if returned to power.
She told delegates in Perth the policy would set the SNP apart from Labour, who argue the freeze is no longer affordable.
Ms Sturgeon said the "starting gun" had now been fired for next May's election.
The party is seeking a historic second term in power at Holyrood, after it won power for the first time in the 2007 Scottish Parliament elections.
The SNP has funded a council tax freeze each year since entering government and, in an appeal to voters on a new policy debate website, the party wants to continue discussion on the issue.
The Nationalists say they will protect family budgets, while Labour would put up the tax.
At the conference opening, Ms Sturgeon said the SNP aimed to "protect family incomes".
"The budget we will present to parliament in the next few weeks will make available the money to freeze the council tax next year.
"But we will go further than that. Our manifesto for the election next year will also include the commitment to put the resources in place to freeze the council tax the year after as well."
The deputy first minister challenged Labour to give "clarity" on its position.
Ms Sturgeon, said: "They say council tax should rise. Tell us by how much? Tell us how much more families and pensioners will have to pay under Labour."
The deputy leader said the SNP, in government, had cut NHS waiting times to a "record low" and put more than 1,000 extra police on the streets.
But the SNP government has also come under opposition fire for dropping key pledges, including seeking to introduce local income tax and bringing forward an independence referendum bill.
Ms Sturgeon said independence would not "magic away" Scotland's problems, but she argued that, with UK government cuts on the way, the move would help grow the economy.
The Perth conference opened with a video message from First Minister Alex Salmond, currently at the Commonwealth Games in Delhi.
Related Internet Links
The BBC is not responsible for the content of external sites.