'Stricter criteria' for school closure plans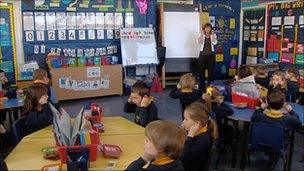 Ministers are taking steps to strengthen rules designed to protect Scottish schools from closure.
The move, at the SNP conference, came amid concern that hundreds of schools are under threat because of the squeeze on public spending.
The education secretary is planning fresh guidance to ensure all alternatives to closure are examined.
Local government body Cosla said it had seen no evidence any council had failed to comply with legislation.
Education Secretary Mike Russell told delegates in Perth that the SNP government had done more than any previous administration, after the Schools (Consultation) Act was passed last year.
The legislation means councils must properly consult before shutting a school and closure can only go ahead if the alternative is educationally better than the existing arrangements.
Leaders of the Rural Schools Network believe guidance attached to the legislation is so vague that schools are not obviously more secure.
But Mr Russell said: "More still needs to be done, especially for rural schools. One of the chief concerns of many rural communities is that they feel their ideas for viable alternatives to closure are not given a fair hearing. We must address this frustration.
"Where an alternative to closure meets the educational needs of the children, the parents, the teachers and - in these financially difficult times - the council, we will ensure it is fully explored."
Fresh mandatory guidance will be developed making it clear to councils that they must consider all viable alternatives to closure and accept any credible plan a community brings forward to save a rural school.
"If a council fails to do so, I will not hesitate to call those plans in and halt those closures until all practical alternatives have been fully examined," Mr Russell warned.
Related Internet Links
The BBC is not responsible for the content of external sites.