Defence 'vital' to Scots economy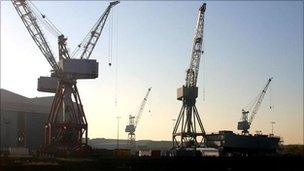 The aerospace, defence and marine sectors have a combined annual turnover of £5.2bn, and are worth £2.1bn to the Scottish economy, a study has claimed.
The study, commissioned by Scottish Enterprise and ADS Scotland, said the industries employed about 40,000 people in Scotland and comprised 842 firms.
The research is to be used to help boost growth in the sectors.
The findings come against a backdrop of next week's UK government announcement on expected defence cuts.
Concern had been raised over the future of two new aircraft carriers being built by BAE Systems at Rosyth and on the Clyde, promoting a cross-party campaign in Scotland to ensure construction goes ahead.
Other companies playing a key role to aerospace, defence and marine sectors in Scotland include Rolls Royce, Thales and Selex Galileo.
There is also a good supply of university graduates in Scotland, with design and engineering capabilities, according to the research which was carried out by SQW Consulting in July.
The industry-led study aims to provide a baseline against which to measure Scotland's success in growing the sectors.
Scottish government Enterprise Minister Jim Mather said the sector provided a "strong and vital contribution" to the economy.
He said: "This important high value sector substantially enhances Scotland's excellent reputation for innovation and technology, employs a skilled workforce of some 40,000, including thousands of support jobs through local supply chains.
"The industry attracts significant inward investment which benefits our economy."
He said the Scottish government would continue to support the sector and to create opportunities for employment and economic growth.
Scottish Enterprise chief executive Lena Wilson said Scotland was in a great position to further strengthen its footprint in an important sector.
She added: "Scotland's full potential can best be realised by even closer working between the private sector, academia and public sector and we are committed to pursuing a strategy which is designed to do just that."
Neil McManus, chairman of industry body ADS Scotland, said it underlined the importance of the sector to Scotland and provided a means for measuring future success.
Related Internet Links
The BBC is not responsible for the content of external sites.