Reforms to public services in Scotland proposed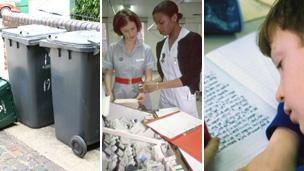 Demand for Scotland's current range of public services will require another £27bn over the next 15 years, according to a new report.
The National Endowment for Science, Technology and the Arts (Nesta) said extra resources will be needed, mainly because of the rising number of older people and the nation's poor health.
The report has come as Holyrood faces a £42bn budget gap over the same period.
Nesta recommended radical reforms to Scotland's public services.
It argued that to make services more sustainable, radical reform needs to become a more significant part of the Scottish government's strategy towards spending reductions.
Nesta's Radical Scotland report said more money should be put into reducing the pressure for more services at more cost, rather than focussing on meeting need once problems have become acute.
"Mainstream service delivery remains largely designed to react to problems rather than to prevent and solve them," it said.
The report proposed some councils or health boards should be freed up to innovate with health, justice and social care.
With "new community status", they would be given financial incentives to invest in change but with an expectation that the savings and lessons learned would be shared with other parts of the country.
Nesta, which was set up with Lottery funding to provide innovative answers to economic and social challenges, also looked at the cost of criminal justice.
It has proposed that more money should be spent on preventing drugs-related and drink-related crime and other social costs rather than spending more money on tackling the consequences.
The report calculated drink and drug-related long-term illness would cost the Scottish government £410m more per year by 2025, totalling £4bn over the next 15 years.
They said the growing number of older people, and of very old people, will push up government costs by £1.1bn per year within only six years.
If nothing was done to stop rising trends in prisoner numbers, the cost of jailing Scots would rise by as much as £250m per year to nearly £700m.
Among the ideas taken from outside Scotland, Nesta cited a decision taken in Texas not to build another jail, but to put the cost (at $500m or £312m) into treatment for mental health, substance abuse and post-prison support.
As a result, it is claimed the prison population rose by 90% less than anticipated, and the state government saved $434m (£271m).
Nesta said some groups in Scotland were already taking a similar approach on a small scale, such as East Renfrewshire's School, Social Work, Police and Community programme (SSPC). It argued that approach to tackling violent and anti-social behaviour among young people helped reduce knife-carrying and vandalism by 20%.
The Radical Scotland report also said current responses to the UK government's spending plans were not sustainable, "given the limits of traditional efficiency measures and the cost of rising demand for public services".
It claimed even the contentious money-saving measures suggested in the Independent Budget Review, led by Crawford Beveridge, would still leave the Scottish government £1bn short of the necessary cuts by 2014-15.
Nesta's chief executive Jonathan Kestenbaum said: "Numerous examples from Scotland demonstrate how services can be refocused at a local level to prevent longer term problems.
"Scotland must make radical reform of its public services the driving mission."
Related Internet Links
The BBC is not responsible for the content of external sites.