SNP unveils iPhone election app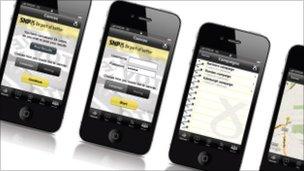 The Scottish National Party has unveiled mobile phone technology to aid its campaign during next May's Holyrood election.
The app, which works with iPhones and other smart phones, provides party data on targeting key voters to campaigners and candidates.
The technology connects the party's online canvassing database with social media, news feeds, and maps.
SNP campaign manager Angus Robertson said it would give his party the edge.
The technology is the updated version of a system trialled at this year's Westminster election.
Mr Robertson said: "This groundbreaking technology will give our candidates the edge as they work to make Scotland better.
"With the SNP app, candidates can keep up to date with SNP news, access important policy information, stay on top of the day's campaign developments and put the views and ideas they get from voters on the doorstep straight into Activate, the SNP's revolutionary contact system."
The Activate system allows members to contact voters near their location or in a target seat of their choice.
Related Internet Links
The BBC is not responsible for the content of external sites.