Call for stay-at-home gap-year volunteers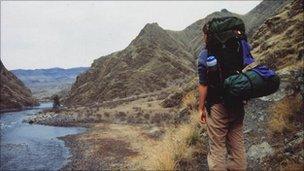 A scheme to help gap-year students and others carry out voluntary work at home rather than abroad should be created in Scotland, a think-tank has said.
Reform Scotland said that hundreds of students sign up for Voluntary Service Overseas (VSO) each year.
However, they claim that many more would be interested in volunteering if they did not have to go abroad.
The think-tank made the recommendation following a four-month consultation into the voluntary sector.
In 2008 the voluntary sector had an annual income of about £4.1bn, employing 130,000 paid staff - approximately 5% of the Scottish workforce.
In addition to this, Reform Scotland said about 1.3 million adults act as volunteers.
But the think-tank said a Voluntary Service at Home scheme could help extend that number even further.
It suggested the initiative would allow gap-year students and others to become involved in Scots-based charity work rather than expending their efforts overseas.
Reform Scotland added: "A Voluntary Service at Home scheme would need some sort of co-ordinating organisation, similar to the way in which Project Trust sends about 200 volunteers to 25 countries annually to undertake charity work."
The organisation has also called for voluntary sector bodies to be able to set up new, publicly funded, independent schools, which would provide an "alternative to local authority provision".
Reform Scotland argued that hospitals and other community health providers should become independent, not-for-profit trusts - which would be part of the voluntary sector. They would also be able to set up new bodies to provide healthcare.
The report said: "All this would expand the role of the third sector in Scotland greatly and create a genuine alternative to public sector provision."
One of the report's authors, Geoff Mawdsley, director of Reform Scotland, said: "The voluntary sector has the expertise and the potential not only to improve efficiency, but also to improve quality.
"In Scotland, we need to reach a situation where public services are provided by those organisations which best meet the needs and wishes of people and local communities. Sometimes this will be the public sector.
"However, where the voluntary sector can contribute, we should endeavour to remove all barriers."
Related Internet Links
The BBC is not responsible for the content of external sites.