'Rise in Scots wind farm support'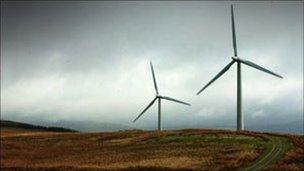 More than three quarters of Scots support the development of wind farms, research commissioned by the renewable energy industry has suggested.
Scottish Renewables said its survey showed support for wind farms had risen from 73% five years ago to 78% now.
The YouGov poll also said 52% disagreed with the statement wind developments are "ugly and a blot on the landscape".
The Scottish government has said it wants 80% of electricity provided by renewables by 2020.
A total of 59% of the 1,000 people surveyed agreed that wind farms were necessary for producing renewable energy and what they looked like was unimportant.
Rosie Vetter, onshore wind policy manager at the organisation, said the survey showed the majority of Scots supported wind farm development "despite the frequent attacks by a vocal minority of opponents".
She added: "The majority of people clearly understand the need for more renewable energy as part of the answer to the question of how we tackle climate change and see the social, economic and environmental benefits from clean generation of electricity here in Scotland.
"The increase in support for wind energy comes from the fact that this industry is now recognised as playing an important part in Scotland's economic recovery with new jobs, investment and manufacturing."
Ms Vetter said the increase in support for wind projects came despite a greater number of wind developments.
The Scottish Renewables survey is released as its latest policy paper, Driving the Low Carbon Economy: Onshore Wind, is published.
The paper highlights the need for better regulation, improved grid access and stable financial incentives for the industry.
It also said that onshore wind power projects needed sustained growth to meet future demands on the sector.
Related Internet Links
The BBC is not responsible for the content of external sites.