Deer warning issued to motorists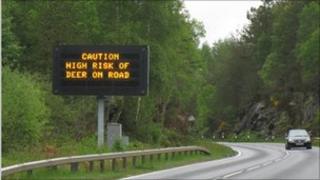 Motorists in many parts of Scotland are being warned to expect large numbers of deer on the roads as the days shorten and winter approaches.
Experts say that at this time of year, shorter days and the clock change mean herds of red deer are moving down from the hills at the same time as commuters head home.
On many of Scotland's key routes - such as the A9, A835, A82, A85 and A87 - that is a potentially dangerous combination.
Scottish Natural Heritage estimates that there are more than 10,000 deer-related crashes each year on the country's roads and, on average, about 70 people are seriously injured.
The financial cost of those accidents is put at £5m.
Jamie Hammond, deer management officer for SNH, said: "The risk of accidents is particularly high at this time of year.
"The time when deer are feeding on road verges at night overlaps with peak commuting times.
"I'd strongly urge motorists to slow down and keep a careful watch for deer crossing roads.
"If you slow down or stop for one deer, be aware that more deer may follow the first - so keep your speed down and be alert. Turn off your full beams, as deer may be startled and freeze instead of leaving the road.
"If you do hit a deer, report it to the police, as the deer may be fatally injured and suffering."
Drivers are also being warned that 70% of accidents involving deer take place on trunk roads and motorways, rather than remote Highland roads.
Electronic signs are also being used to alert motorists to the potential danger at key locations on Scotland's trunk road network.