Ash Scotland calls for a ban on smoking in vehicles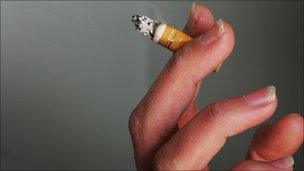 An anti-smoking charity has called for a consultation on banning smoking in vehicles in Scotland.
Ash Scotland made the call, along with 32 other recommendations, as part of a strategy to tackle "Scotland's biggest killer".
The charity said the change would highlight the impact of second-hand smoke on others.
However, the Tobacco Manufacturers' Association said such a move would be a "step too far".
Latest figures suggest a quarter of all adult deaths in Scotland can be attributed to smoking-related diseases.
Setting out their "Beyond Smoke Free" document, Ash Scotland said the country had taken major steps to cut smoking in the past six years, but that more needed to be done.
The document calls for a consultation on introducing legislation to ban smoking in vehicles and the development of "robust" intermediate and endpoint targets to reduce the effects of passive smoking in the home and in vehicles.
Other proposals in the document include calling for a UK law to require standardised, unbranded packaging of tobacco products and encouraging the UK government to increase tobacco industry accountability.
Smoking reportedly costs the Scottish economy more than £837m each year and the NHS in Scotland more than £409m each year.
Ash Scotland's chief executive, Sheila Duffy, said: "Not everyone will agree with every single recommendation but I hope it will provoke debate about what more we need to do and how best we can use our resources to tackle Scotland's biggest killer."
The report showed that the highest smoking rates are found in the poorest communities, with rates in the most deprived areas at 43% compared with 9% in the least deprived.
In Scotland's most deprived areas, 32% of deaths are due to smoking compared to just 15% in the least deprived.
Ms Duffy said that while Scotland's smoke-free public places law had benefited the country, far too many people were still exposed to second-hand smoke.
She said that 27.4% of Scottish children were exposed to second-hand smoke in their own home, with 54% of babies and young children from the poorest backgrounds regularly exposed.
A Scottish government spokeswoman said: "While there are currently no plans to extend the smoke-free laws to private cars, the Scottish government is conscious that private cars are now one of the main places for exposure of children to second-hand smoke.
"In conjunction with our health improvement partners we are continuing to do all we can to highlight the risks posed by second-hand smoke."
A spokesman for the Tobacco Manufacturers' Association, which represent tobacco firms in the UK, said: "We discourage adults from smoking around children but the proposal to ban smoking in what is a private space is a step too far and an unwarranted intrusion on individual freedom."
He added: "In private vehicles adults should be free to smoke, provided they do not light up or smoke in a way that would distract from safe driving.
"They should also show due consideration for other occupants and dispose of cigarette ends responsibly in ashtrays."
Related Internet Links
The BBC is not responsible for the content of external sites.