Resilience of Scottish local economies ranked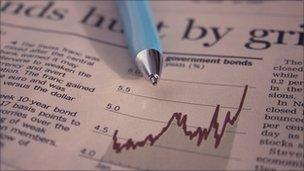 North Ayrshire is the part of Scotland least well placed to recover from government cuts, according to research.
West Dunbartonshire is second worst, having seen its private sector contract between 2003 and 2008.
Areas where the local economy is best placed to bounce back are in the north east, where the offshore oil sector and agriculture have been more buoyant.
The analysis, by Experian, measured the resilience of local economies in different council areas.
The findings give an indicator of the prospects for the economy as public sector spending and employment is cut back sharply, following the announcement of spending cuts by the Chancellor George Osborne.
The Treasury said nearly 500,000 public sector jobs could be expected to go.
An independent assessment of the Scottish public sector suggested it could expect to lose about 60,000 jobs, and another report for Pricewaterhouse Coopers suggested up to 35,000 more could be lost in private firms dependent on public spending.
The Experian survey measured the mix of companies, down-rating those in sectors that are vulnerable to economic downturn or government cuts, or where marketing data shows high levels of insolvency.
Its formula gave more positive weighting to those areas with companies - in the technology sector, showing they are able to adapt, which pay their bills on time, if they're foreign-owned, with high levels of self-employment and where there is a stronger export orientation.
Having already assessed all of England's local authority areas, the Experian research set it against economies covered by Scotland's 32 local councils.
Of 356 districts, North Ayrshire ranked 342 and West Dunbartonshire at 340.
The best in Scotland were Aberdeenshire, ranked after 22 English local authority areas, Aberdeen at number 56 and Edinburgh at 62.
According to the consultants, North Ayrshire has a weak mix of companies with high dependency on public sector spending, such as construction firms.
They said West Dunbartonshire is ranked poorly partly because it has more businesses struggling to pay their bills, even though it has average business start-up rates.
Even among areas with a lot going for them, Stirling was cited as one area with poor business start-ups.
The consultants' report goes on to forecast that the best sectors for growth in the next five years will be in transport, retail, business services.
It says that even in those areas without high growth businesses in the financial, creative and life science sectors, jobs can still be created in the more overlooked areas of the economy: retail, tourism and hospitality.
Related Internet Links
The BBC is not responsible for the content of external sites.