Woodland Trust appeal over sweet chestnut tree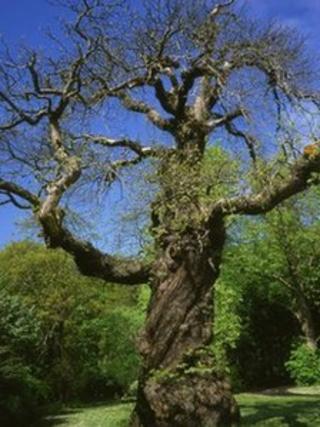 The Woodland Trust has asked the public to pinpoint the location of one of the country's oldest trees.
The charity launched the Ancient Tree Hunt in 2007 and this autumn it wants the public to help track down the sweet chestnut.
The tree is said to be one of Scotland's most distinctive, with links to the Romans and Mary Queen of Scots.
The trust said the sweet chestnut is poorly represented on their database of ancient trees.
Regarded as an honorary native introduced to Britain by the Romans to provide a ready supply of chestnut flour, the sweet chestnut originates from southern Europe, western Asia and north Africa.
Edward Parker, the Ancient Tree Hunt project manager at the Woodland Trust, said: "The sweet chestnut has so many important historical associations and it also rather surprisingly grows some of the biggest trunks in the UK, yet the Ancient Tree Hunt has just over 3,000 records for the species, while oak accounts for nearly half of all the 73,000 trees on the database.
"We know there will be many more out there, so we are urging people to help us gain more data.
"Ancient sweet chestnuts have distinctively twisted, spiral-like trunks when they grow old, so they are easily recognisable to the public, especially at this time of the year while the nuts are available.
"It's also a great way of stocking up on free food for traditional autumn or Christmas dishes with the family."
Said to be the stoutest of its species in Scotland, the Cockairnie sweet chestnut, found at Cockairnie House, near Aberdour, Fife, has a girth of 8.82 metres (29 feet).
Cockairnie House is about 500 years old and the Woodland Trust believes the tree was probably planted shortly after the house was built.
The tree with the oldest recorded planting date in Scotland is the 1550 sweet chestnut at Castle Leod, Strathpeffer.
Estate records show that the tree was planted in 1550 by John Mackenzie, a privy councillor to King James V and Mary, Queen of Scots.
The Woodland Trust said there seemed to be a strong connection between the sweet chestnut and to the time of Mary Queen of Scots.
The Queen Mary's tree in North Lanarkshire, is reputed to have been planted by the Queen in 1561 during a visit to Cumbernauld Castle.
Although the castle no longer exists, the ancient sweet chestnut survives.
It is also thought she planted the Balermino sweet chestnut, when she visited the abbey in 1565.
Another castle frequented by the Queen was Melville Castle in Midlothian.
During one of her visits, David Rizzio, her Italian secretary and close companion, is said to have planted a tree as a token of his love for her by the banks of the River North Esk.
The tree survives to this day next to the stable block, which is now known appropriately as Chestnut House.