EIS union in 'protect education' plea before rally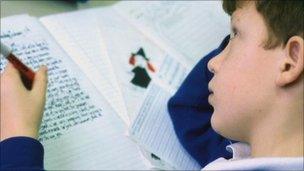 A teachers' union has called for the Scottish government to protect education from "devastating waves" of cuts.
The Educational Institute of Scotland said teachers and lecturers would take part in a march in Edinburgh at the weekend.
The rally is being held to demonstrate against the cuts announced by UK Chancellor George Osborne.
The protest is being organised by the Scottish Trades Union Congress.
Scotland is expected to lose about £3bn over the next four years from its budget.
EIS general secretary, Ronnie Smith, said: "With the massive cuts to public services just announced by the coalition government at Westminster, with the Scottish government's own budgetary decisions imminent and with Holyrood elections just a few months away, we must keep up the pressure on all political parties."
Saturday's march, called "There is a Better Way", will feature thousands of teachers, lecturers, and parents on Saturday, the EIS said.
Union members will march under the banner "Why Must Our Children Pay", focused on protecting school, college and university budgets.
The wider march begins at about 1100 BST on East Market Street before travelling along Princes Street to a rally with speakers from unions and the Church of Scotland.
The UK government unveiled huge cuts to public spending in the comprehensive spending review on Wednesday.
Holyrood Finance Secretary John Swinney is expected to explain in Novermber how the reduction to the block grant will affect public services north of the border.
Related Internet Links
The BBC is not responsible for the content of external sites.