Unions protest in Edinburgh over public sector cuts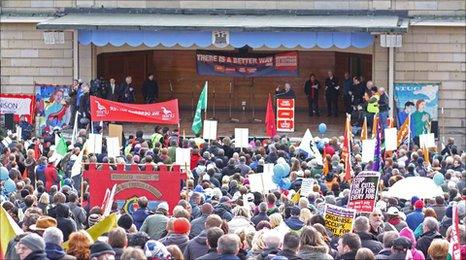 A rally in Edinburgh to protest at public sector cuts was attended by more than 20,000 demonstrators.
Union group the STUC arranged the event to demonstrate against measures in the UK government's Spending Review.
On Wednesday, Chancellor George Osborne announced the most wide-ranging cuts in public spending for decades.
Union leaders said they had been "overwhelmed" by the response to the protest rally attended by people from across Scotland.
Some 100 buses ferried demonstrators to the march through Princes Street before a rally at the Ross Bandstand in Princes Street Gardens.
Labour's Iain Gray, who attended the event, said: "The turnout at this march shows that the people of Scotland do believe there is a better way. The coalition cuts are too deep and too fast, putting 100,000 jobs at risk."
Other prominent politicians included Justice Secretary Kenny MacAskill, MSP for Edinburgh East, who said: "Scotland has come together in the past against the decisions of a Conservative government and it is time to work together again."
George Samson, of the Dundee Pensioners Forum, said: "We're here to defend public services. Pensioners depend on these services, and these cuts that are forthcoming are going to affect us adversely."
Madhu Satsangi, a social sciences lecturer at Stirling University, said there must be a different way other than making "these big cuts".
Before the march, STUC general secretary Grahame Smith said: "We launched this campaign to dispel the myth that there is no economic alternative to these cuts.
"There is an alternative. Get people back to work, get the economy growing again, and the public finances will largely take care of themselves.
"We also launched this campaign to expose the lie that it is those with the broadest shoulders that will bear the brunt of the cuts."
Related Internet Links
The BBC is not responsible for the content of external sites.