SNP is urged to 'set budget now'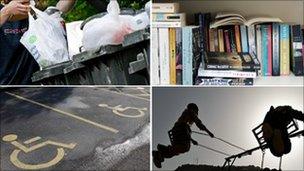 First Minister Alex Salmond has dismissed opposition calls to immediately bring forward the SNP's next budget.
Scottish ministers pledged to announce their spending plans within four weeks of the UK Spending Review.
But Labour's Iain Gray said the plans needed to be published without delay.
Scottish Finance Secretary John Swinney has said he would have £1.3bn less to spend overall in 2011-12.
But the Scotland Office has insisted next year's budget would see a £900m reduction, and was less severe than predicted.
This week, Chancellor George Osborne unveiled £81bn of cuts across the UK, which will include a reduction in next year's Scottish block grant - which includes extra cuts deferred from this year.
Mr Gray, the Scottish Labour leader, said the consequences of the move were "extremely serious", adding: "John Swinney is the finance secretary he as 17,500 civil servants to work on this.
"He's really known these figures since June - he's talked about estimates but he was basically in the right place."
Tory leader Annabel Goldie said her party had identified savings for more than £700m in a year, telling BBC Scotland's Politics Show: "I'm calling on Iain Gray and the SNP - I've brought forward my proposals to the table - you bring forward yours."
But Mr Salmond said time was needed to fully study the Spending Review, adding: "We're going to publish the budget to parliament in three or four weeks' time.
"Given the coalition's taken five months to wreak this disaster on Scotland, then I think it's only reasonable to get three or four weeks to see how we can pick up the pieces."
Meanwhile, Scottish Lib Dem leader Tavish Scott hit out at the "over-the-top rhetoric" used to describe the cuts.
"To suggest everything is gloomy when things are, of course, tough but not impossible I think is just plain wrong.
"The budget is only coming down to the level it was two years ago, not 20 years ago or 10 years ago," said Mr Scott.
Related Internet Links
The BBC is not responsible for the content of external sites.