Concern over Scottish government's early years strategy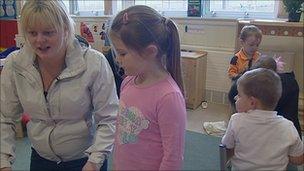 The Scottish government has been accused of failing to take the lead on one of its top education priorities.
The early years strategy aims to provide support to children from tougher backgrounds at a younger age.
But a new report being published by children's commissioner Tam Baillie says ministers are not ensuring it is implemented across Scotland.
Children's minister Adam Ingram dismissed the report, saying much of the work was already being done.
Glasgow's Westerhouse Family Centre provides day care for children, as well as playing a key role in supporting parents, some of whom come from underprivileged backgrounds.
Mother-of-two Lynne McCabe said the centre, in the city's Easterhouse area, allows her to continue to work, without the burden of paying for private childcare.
She said: "With my wee boy, I've been getting involved in learning plans, that was really interesting, I also have regular meetings with nursery teachers and constant updates.
"For my daughter, now that she's two, it's more about things like good food, good eating and teeth brushing."
Centres like Westerhouse are a key to driving the Scottish government's early years strategy.
It is one of its top priorities, and aims to ensure youngsters get the best possible start in life, so they do not then go on to a life of crime when they are older.
Westerhouse head teacher, Kay Hamilton, said: "A lot of the parents have huge barriers in the way of being the parents they really want to be.
"For some of these parents, the barriers can be domestic violence, addictions or it can be a lack of confidence on their literacy skills.
"We work with those parents on an individual basis and, at the time that's right for them, we get other services in to help."
A new report by Mr Baillie has questioned the government's approach to making early years a success.
In it, he says ministers need to take a stronger national approach towards the strategy and that the public's understanding of the policy needs to be much improved.
The report also concludes there should be an expectation of dedicated funding for early years and community services.
And, in the week when the UK government announced £81bn of spending cuts, Mr Baillie raised concern that those providing early years services may be seen as a soft target when it comes to making savings.
Mr Baillie told BBC Scotland's Politics Show: "The government has done a good job in terms of producing the early years framework - they brought together the evidence which proves the case for good early years.
"But some of the evidence is that it has been implemented in a patchy way and even those at a local level who have responsibility for implementing it are asking for a greater steer in terms of the mandate that they have to try and shift funds from later to earlier interventions."
But Mr Ingram has strongly dismissed the report's findings and insisted the SNP has hit the ground running on early years.
He said: "I'm not very impressed with the report.
"I think the conclusions and recommendations are based more on subjective opinion rather than objective evidence.
"I would suggest that little heed has been paid to the fact that the early years framework was developed in a collaborative manner and its being implemented in a collaborative manner.
"The notion that the government should assume command and control is anathema."
But that is not how the Labour leader of Glasgow City Council sees it.
Gordon Mathieson has vowed to protect funding for services that help children get the best start in life and that, he argues, goes further than commitments made by the SNP government.
He said: "Unfortunately, when the SNP came to power, they deleted funding for the vulnerable twos project and they made clear they were not convinced about the value of nurture classes.
"The record speaks for itself."
Centres like Westerhouse may be safe for the moment, but, with spending cuts on the way, there are now serious question marks over which services will survive.
Related Internet Links
The BBC is not responsible for the content of external sites.