Teacher tells of online 'horror'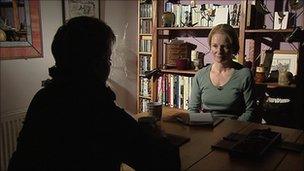 A secondary school teacher who says she has been abused on a social networking website by her pupils has told the BBC about her ordeal.
The woman, who asked not to be named, has reported the "horrific" material she found about herself to the police.
She is also endorsing a drive by her union The EIS to make websites hosting such content accountable for defamation in the same way that newspapers are.
The teacher said she felt "violated" by the nature of the comments.
The teacher, who used the name of Susan during the interview, said, like any teacher, she occasionally had to discipline pupils but on the whole she got on well with them and enjoyed her job.
Susan said the first sign of any problem was that the children had a tendency to giggle and look away.
It was almost a year before she realised why there was a strange atmosphere in the class.
She said: "I put one of the girl's names into Google and in three clicks I found a whole load of stuff, a photograph of me and a whole year's comments.
"I must admit I was shocked. I know kids say some things about you in conversation. It comes with the territory if you're a teacher, but this was really horrific.
"The F-word was everywhere and the sexual content was horrific - what they wanted to do to me. And they wanted to shoot me in the face, stab me, burn me. I felt violated."
Susan is unsure whether there was any real sexual intent.
She has reported the incidents to the police and encouraged other teachers to make complaints too as she believes otherwise this type of offence could become more common.
Calling for a change in international legislation, she said her employers appeared to be powerless to help her.
She said: "I assumed the stuff would be removed from the internet but there are no laws. No-one is policing it. Kids are being given their own web space without any rules."
Drew Morrice, an EIS assistant secretary, said: "We are facing a growing problem. Teachers are seen as fair game, by virtue of their employment, for all kids' comments to be posted on websites or blogs. The EIS has a view that it's time these sites were properly and effectively regulated."
A Scottish government spokesperson said the new stalking offence in the Criminal Justice & Licensing (Scotland) Act 2010 would give victims greater legal protection.
It also said the Sexual Offences (Scotland) Act 2009, which comes into force in December, creates a new range of statutory sexual offences that will criminalise specific sexual conduct that takes place without consent.
Related Internet Links
The BBC is not responsible for the content of external sites.