Digital switch complete in northern Scotland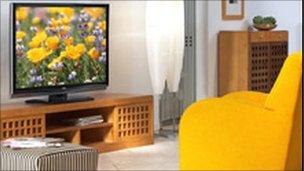 The process of switching off the analogue television signal across northern Scotland will be complete in the early hours of Wednesday.
The last analogue signals on BBC1, STV and Channels 4 and 5 will be turned off across Mull, northern Argyll and Lochaber.
Digital terrestrial television will be available across the whole area for the first time by Wednesday.
Over the past six months, transmitters have been converted at a rapid rate.
Last week the final analogue broadcasts in the former Grampian TV region ended.
The former Border TV area completed the switch to digital last year while viewers in Central Scotland have just over six months to prepare for switchover.
Two weeks ago the process to turn off the analogue signals began at the Torosay transmitter on Mull and its relays across north Argyll and Lochaber.
It is the first transmitter group in the traditional STV region - covering Central Scotland and the West Highlands - to switch to digital.
Two weeks ago, BBC Two analogue was turned off and replaced by the BBC's digital channels.
This meant that Freeview boxes started working across the whole of the area.
Previously Freeview signals could only be received by viewers who got their reception directly from Torosay.
No serious problems have been encountered over the past six months and from a technical point of view, the process has been said to be seamless.
A helpline has been running for people who needed help or advice installing or adjusting their Freeview boxes while practical help has been available for eligible elderly and disabled people.
More than nine out of 10 viewers in Scotland have digital TV on their main sets in one form or another (Freeview, Freesat, Sky or cable) while most portables have also been converted.
It is believed that some of the people who are still watching analogue had taken a conscious decision to wait for Freeview to become available where they lived rather than invest in satellite TV, which is available almost everywhere.
Instead, efforts have been focused on making sure that those elderly or vulnerable people, who may have found the process challenging, received help, and on publicising the switchover dates so nobody was caught out.
Remaining analogue viewers in the rest of Central Scotland have just over six months to decide what to do.
The two-week process to turn off analogue television begins at the Darvel and Rosneath transmitters and their relays on 11 May.
These transmitters cover much of Ayrshire and Argyll and Bute.
The Craigkelly transmitter group - covering southern Fife and much of Edinburgh and the Lothians - starts to switch on 1 June.
The following week the process begins at the landmark Black Hill transmitter by the M8 near Shotts, in North Lanarkshire, along with its dependent relay transmitters.
When the last analogue signals are switched off at Black Hill and its relays on 22 June, analogue TV will be no more in Scotland.
Related Internet Links
The BBC is not responsible for the content of external sites.