'Lifestyle' cancers rise sharply in Scotland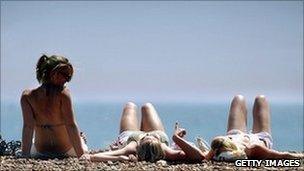 Cases of "lifestyle cancers" such as skin and liver have risen sharply in Scotland, according to new statistics.
From 1998 to 2008 rates of malignant melanoma rose by 68% in males and 71% in females, and in the same period liver cancer rose by 51% in men.
Health Secretary Nicola Sturgeon said it was evident that "lifestyle choices" were leading to increases in cancer.
The figures also showed that from 1999 to 2009 overall cancer death rates fell by 14% in men and 6% in women.
Ms Sturgeon said that although one in three people would develop cancer in their lifetime, the good news was that people were "living with and beyond cancer".
She added: "Earlier diagnosis and better treatment means we are seeing mortality rates falling.
"But worryingly we are also seeing evidence that our lifestyle choices are resulting in increasing cases of cancer.
"Skin cancer is clearly linked to excessive exposure to sunlight or use of sunbeds.
"Those with alcoholic cirrhosis of the liver - a disease that has increased markedly in Scotland in recent years - have a significantly increased risk of cancer of the liver.
"The incidence of both types of cancer is increasing sharply."
The figures, which have been released by the Information Services Division Scotland, showed that in 2009, 15,119 people died from cancer with mortality rates for the four most common cancers - lung, bowel, breast and prostate - decreasing.
However, the one exception was lung cancer deaths in women, which increased by 12% from 1999 to 2009.
In 2008, 13,800 men and 15,000 women were diagnosed with cancer in Scotland.
Breast cancer was the most common cancer in women with the incidence increasing by 8% over the past decade.
Related Internet Links
The BBC is not responsible for the content of external sites.