Deaths drop over winter despite freezing temperatures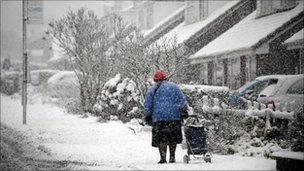 The number of deaths recorded last winter in Scotland dropped, despite bitterly cold weather.
There were 19,688 deaths between December and March, compared with 20,532 the previous year, according to the General Registers of Scotland.
Excess winter deaths - the increased number compared with the rest of the year - fell from 3,510 to 2,760.
Register General for Scotland Duncan Macniven said the figures suggested a long-term downward trend.
He said: "Last winter, the seasonal increase in the number of deaths was less than in the previous winter, despite the unusually cold weather.
"We have calculated these figures for the last 59 winters and the most recent 10 winters have had four of the six lowest numbers of additional deaths."
Bitterly cold temperatures at the start of the year led to widespread disruption and warnings that vulnerable people might suffer.
The thermometer sank to -22.3C in the Highlands on 8 January, almost the same temperature as in Antarctica at the same time.
However the number of deaths between December 2009 to March 2010 was the second-lowest registered in the 20 most recent winters.
It was only slightly up on the 19,651 deaths recorded in winter 2005-06.
Most deaths in winter are due to respiratory and circulatory diseases such as pneumonia, coronary heart disease and stroke.
The report noted that swine flu only accounted for a small proportion of winter deaths in 2009-10.
Between the beginning of the outbreak in spring 2009 and April this year, a total of 69 people in Scotland died after contracting the H1N1 virus.
Health Secretary Nicola Sturgeon praised the work of NHS and council staff in helping vulnerable older people during the severe weather.
She said: "Although all additional deaths are regrettable, it is heartening that they fell so substantially despite the fact Scotland was coping with the H1N1 pandemic and extremely harsh winter weather.
"A great deal of hard work went into ensuring Scotland was well-prepared with stocks of H1N1 and seasonal flu vaccines and these figures show that has paid dividends."
Liberal Democrat energy spokesman Liam McArthur described the fall in deaths as "encouraging".
But the MSP stressed that there was "no room for complacency" and called for action to tackle the problem of fuel poverty.
He added: "Those most at risk from succumbing to the effects of cold weather must not have to make a choice over whether they buy food or heat their houses."
Related Internet Links
The BBC is not responsible for the content of external sites.