Licences for oil and gas cut back to protect wildlife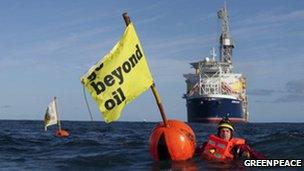 Licensing of oil and gas exploration in UK waters has been cut back by the UK government in its bid to ensure protection of marine wildlife.
The 26th round of offshore licensing, since it began in the 1960s, was announced on Wednesday.
They include 22 licences for deep water drilling across 64 sea blocks, in depths of more than 500 metres to the north and west of Shetland.
In recent months, these have been opposed by environment campaigners.
The total number of licences granted in the latest round has been cut by more than a quarter to 144, with fewer companies involved than the 25th round. These cover more than 300 blocks of sea area.
Some 45 other licences, covering 99 blocks, have been withheld while further work is carried out on potential damage to marine wildlife and eco-systems.
Tests are to be carried out on the potential impact of oil spills, digging pipeline trenches and underwater noise, in particular seismic tests.
The areas affected include an area of sea off the north coast of Norfolk and in the Thames Estuary, plus Liverpool Bay.
European conservation regulations require special status protection of sea areas north of the Isle of Lewis, west of Mull, west of the Scilly Isles, on sandbanks off East Anglia, and with consideration of that protection being extended to a large area of the Dogger Bank, east of the Humber.
The UK government claimed the latest licensing round shows interest in offshore oil and gas drilling remains vibrant.
Energy Minister Charles Hendry said: "It's encouraging to see the healthy level of interest there is from industry to make the most of the UK's still substantial resources of oil and gas.
"Whilst in the long-term, we want to decarbonise our energy system, we have moved swiftly to offer these licences as we must realise the optimum value from the UK's energy resources and ensure secure energy supplies.
"We remain absolutely vigilant and determined to ensure that exploration in our waters is done safely and with minimal impact to the environment."
Malcolm Webb, chief executive of industry body Oil and Gas UK, said the commitment to new drilling licences was very welcome.
But he added: "We note with concern that a further 99 blocks have been held back, awaiting the results of environmental assessments being carried out by the Department of Energy and Climate Change (DECC).
"We would urge the government to conclude this process as quickly as possible to allow prospective licensees to move ahead swiftly with investment in new exploration activity.
"The industry takes its environmental responsibilities very seriously."
"Oil & Gas UK stresses its commitment to working closely with the government and other agencies to ensure that our exploration and production activities are carried out with maximum attention to ensuring safety and the protection of the environment".
Related Internet Links
The BBC is not responsible for the content of external sites.