E-crime site offers business help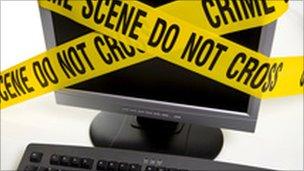 A new approach is being launched to help businesses reduce the risk of falling victim to electronic crime.
A website aimed particularly at small companies will offer help in protecting IT networks and preventing computer-based fraud.
It is estimated that "e-crime" costs Scottish business billions of pounds a year.
This ranges from virus attacks which can wipe out records or hacking which compromises security to simple fraud.
Online crime is notoriously difficult to detect because of the sheer technical complexity involved - often beyond the resources of small companies to combat.
The e-crime Scotland website, hosted by the Scottish Business Crime Centre, is being launched to help companies spot potential problems and deal with them.
It is based on a similar site established by the Welsh government.
A conference in Edinburgh on cybercrime will hear of the growing threats to personal and business security from social media sites - and of a growth in Scotland of "skimming", where fraudsters record details of cards used in cash machines and then attack the account.
Related Internet Links
The BBC is not responsible for the content of external sites.