Lib Dems make business rates call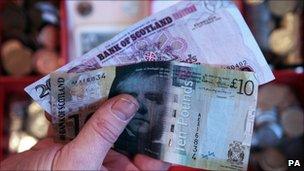 The Scottish government has been accused of not doing enough to support businesses that have suffered a large rise in the amount they pay in rates.
The Scottish Liberal Democrats opened a debate at Holyrood, repeating calls for a scheme for the hardest-hit firms.
The party said some companies had seen their bills increase by 150%.
However, the government said £2.4bn of relief had been made available over five years, and 60% of businesses were better off after the revaluation.
Non-domestic rates are set by an independent review board not the government.
Business rates are set every five years and are paid by commercial properties to contribute to local services.
In England, "transitional relief" means that when a company's rates bill is increased sharply after revaluation, the impact is phased in over several years.
Under the Scottish government's small business bonus scheme, many small firms pay no rates at all but the transitional relief for medium to large companies was scrapped.
Lib Dem finance spokesman Jeremy Purvis called on the government to "accept the principle" for transitional relief.
He said the government had acted in the past to tackle much smaller increases.
"With a 5% increase in 2009 the government acted. But this year, with 50%, 100%, 150% increase in tax bills, the government sits on its hands," he said.
He told parliament that out of the 75,000 businesses which paid rates, 80% had appealed their revaluation.
"That is an incredible situation to have for the businesses in Scotland," he added.
Mr Purvis said a lack of transitional relief had caused serious cash-flow problems for businesses and concerns that jobs would be lost.
However, the Scottish government said businesses in Scotland were benefiting from the most generous rates relief package in the UK, with average savings of more than £1,300.
It said the Small Business Bonus Scheme would save small and medium enterprises an estimated £117m this year.
And about 102,000 firms did not have to pay any rates - almost half of all businesses, it said.
The government claimed introducing a transitional relief scheme similar to England would have transferred almost £77m this year from the private sector to cushion rates increases for the public sector and a relatively small number of large businesses.
During the debate, Finance Secretary John Swinney said: "This is the fourth time that parliament has considered motions from the Liberal Democrats arguing for transitional relief on business rates.
"On each occasion it was clear that the Liberal Democrats failed to think through their proposals and as a result, on each occasion, parliament voted against those proposals."
The number of appeals is not "solely linked" to a transitional scheme, he said.
In 1995, there were 102,500 appeals, compared with 82,200 in 2000 and 57,800 in 2005, he told parliament.
Mr Swinney added: "The real context for the debate around business rates is that we have made an estimated £2.4bn worth of relief available to reduce the rates bills of Scottish businesses over the next five years."
Former Labour leader Wendy Alexander also urged the government to introduce a transitional relief scheme.
The MSP for Paisley North said one in five firms in Scotland were now facing an increase in their rates bill of 12.5% or more - four times higher than the rate of inflation.
SNP backbencher Aileen Campbell defended the SNP administration's record and claimed a transitional relief scheme could cost the government about £195m to fund this year alone.
Prior to the debate Liz Cameron, chief executive of Scottish Chambers of Commerce, said rates reliefs had shielded a number of businesses against the "iniquities" of this year's rates revaluation.
She said: "However we must not forget that this year's revaluation sets the scene for the next five years and it is therefore essential that the Small Business Bonus Scheme, and the various other rates reliefs on offer, are extended over the course of that period to protect even more businesses from future rates shocks.
"In addition, we are continuing to press the Scottish government for the return of a transitional relief scheme to cushion the blow for those firms who have already been stung by rising rates."
She added: "Make no mistake, unless government gets the relief schemes right, many more businesses will yet suffer as a result of an unfair revaluation which has taken no account of the recent recession."
Related Internet Links
The BBC is not responsible for the content of external sites.