Watchdog calls for Scottish fire brigades merger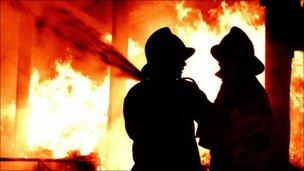 Scotland's fire service watchdog has called for the country's eight fire brigades to be merged into one.
Brian Fraser, the Chief Inspector of Fire and Rescue Authorities, said the reforms would protect frontline services from public spending cuts.
He also suggested other cost-cutting measures, such as sharing stations with ambulance crews, police officers and coastguard workers.
Mr Fraser said he believed the public would be in favour of a merger.
He also argued that there would be fewer political reservations about a single Scotland-wide fire brigade than a single police force.
In August, Lothian and Borders fire chief Jimmy Campbell said a merger of the country's fire and rescue services was "inevitable" in the face of public sector cuts.
He predicted that Scotland's eight fire services would be merged into three, covering the west, south east and north.
The Fire Brigades Union (FBU) has also expressed concern recently about cuts to public services and their impact in Scotland.
It has warned that any further cuts to frontline fire and rescue staff in Scotland would pose a danger to the public and fire crews.
Earlier this month, SNP leader Alex Salmond unveiled plans to reduce the number of Scottish police forces, as public spending cuts take hold.
The first minister told his party's conference that, if it came to it, he would put "bobbies before boundaries".
Related Internet Links
The BBC is not responsible for the content of external sites.